推荐人:常仕博
文献信息1:Zhang G , Chen H , Yang S , et al. Frozen slurry-based laminated object manufacturing to fabricate porous ceramic with oriented lamellar structure [J]. Journal of the European Ceramic Society, 2018, 38: 4014–4019.
推荐理由:本文提出一种制备具有单向排列孔结构多孔陶瓷的新方法。该方法首先将制备好的浆料平铺在低温工作台上,用内置循环制冷装置的低温板使浆料的温度降低到共晶点以下,以便产生冰晶,然后用激光在产生冰晶的浆料表面画一个二维图案使冰晶部分融化,同时继续平铺浆料并重复以上步骤。层层堆叠的冷冻浆料在干燥及烧结过程中由于冰晶的升华而留下垂直排列的孔洞,增强了孔结构的定向性,这种新颖的制备多孔陶瓷的研究思路非常值得我们借鉴学习。
下载地址:https://doi.org/10.1016/j.jeurceramsoc.2018.04.032
Abstract:The freeze drying-based additive manufacturing can be used to process porous ceramics. However, the lack of freezing direction leads to the disorderly porous structure. This paper proposes a frozen slurry-based laminated object manufacturing (FS-LOM) for processing porous ceramics. Slurry was composed of water, alumina powder, and organic binder. The water in the fresh slurry layer crystallized to obtain a good support strength. The outline of 2D pattern was cut with laser to gasify ice crystal and binder. After stacking, the ice crystal freeze dried to obtain a porous structure. The lamellar ice crystals were induced to growth vertically by layer-by-layer freezing.The uniformity and orientation of the pore structure were improved, and the compression strength of the parts were improved. Due to the support of frozen slurry, the deformation of the green part was avoided.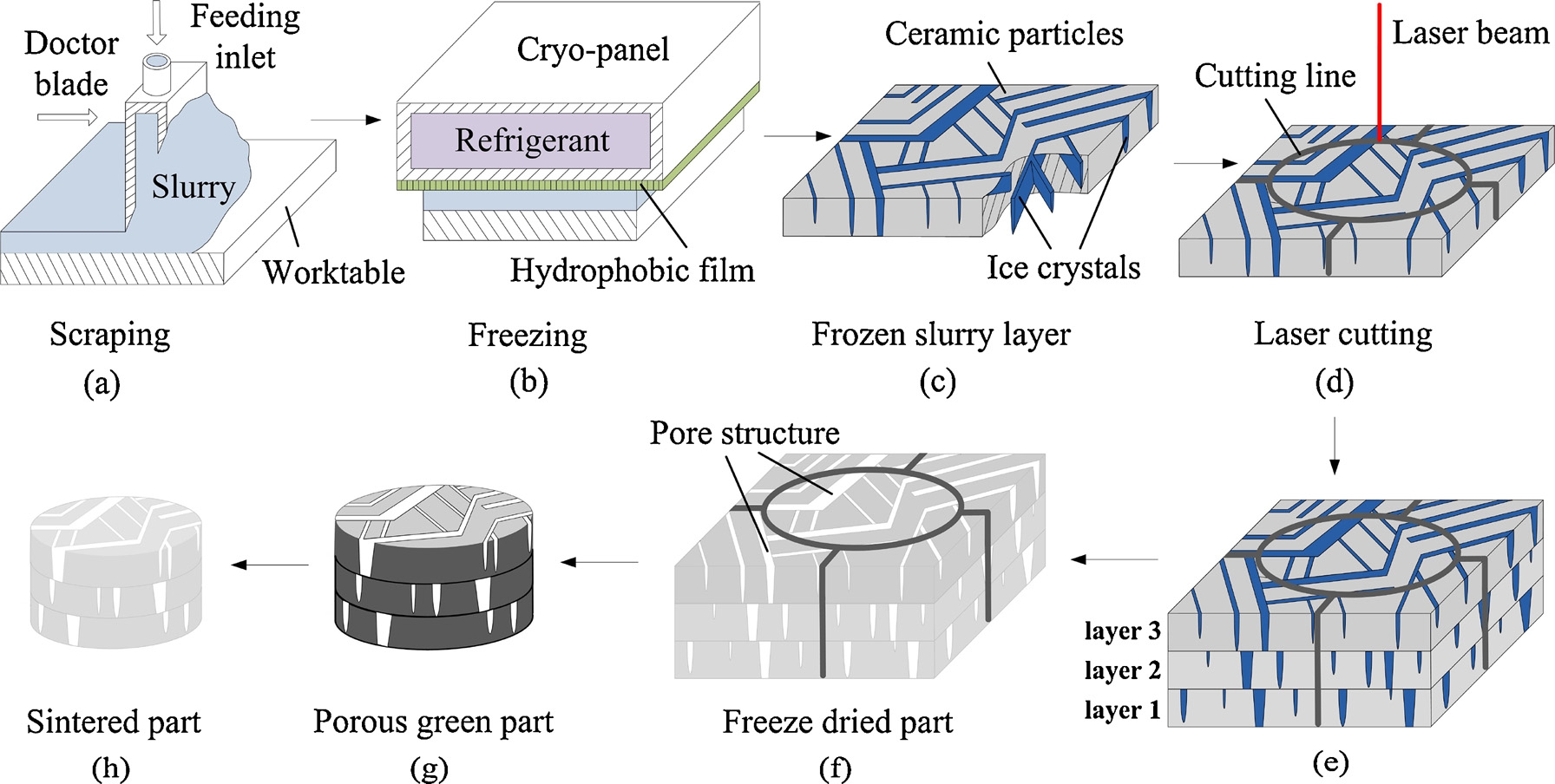 Fig. 1-1.. Diagram of the manufacturing steps of FS-LOM.

Fig. 1-2. The cross-sectional morphologies of sintered parts fabricated by layer-by-layer freezing with alumina content (a) 50 wt.% and (b) 60 wt.%.
文献信息2: Elsehly E M, Chechenin N G, Makunin A V,et al. Ozone functionalized CNT-based filters for high removal efficiency of benzene from aqueous solutions [J]. Journal of Water Process Engineering, 2018, 25: 81–87.
推荐理由:当前,石油污染物中的苯作为一种有毒、致癌物质污染地下水体的问题已得到世界范围内的广泛关注。本文作者采用在环境保护领域具有巨大潜在价值的碳纳米管(CNTs)作为原料,通过臭氧的氧化反应对原始碳纳米管(CNTs)进行净化和表面功能化,由FTIR、SEM和EDS分析可知,臭氧氧化的CNTs的物理化学性能如比表面积,孔容和表面官能团都得到了有效改善。实验发现:改性后的CNTs对水溶液中苯的去除率高达99%,对苯的吸附量可达193mg/g。文章思路清晰,写作角度新颖,对处理含有有机分子污水的科研工作者有很大启发。
下载地址:https://doi.org/10.1016/j.jwpe.2018.06.005
Abstract:This investigation handles the performance of ozone functionalized commercial multiwalled carbon nanotubes (MWNTs) based filters for benzene removal from aqueous solutions. Room temperature ozone treatment was used to modify and functionalize the surface of MWNTs and enhance its adsorption property. The enhancement of oxygen content as well as functional groups was confirmed by Fourier Transform Infrared and Dispersive Electron x-rays Spectroscopy. These functional groups in ozone treated MWNTs filters were found to play a pivotal role to remove benzene from aqueous solutions. It was found that compared to the pristine (P-MWNTs), the ozone functionalized MWNTs (O3-MWNTs) have a lower degree of entanglement and reduced nanotube diameters. Raman spectroscopy was used as a quantitative technique to make concentration measurements of benzene in aqueous solutions. The removal efficiency of benzene by O3-MWNTs could reach 99%. The adsorption capacity of benzene by O3-MWNTs could reach 193 mg/g which is high compared with other adsorbents. Langmuir isotherm model and its characteristic parameters for benzene adsorption were determined. A specific π-π electronic interaction between benzene molecules and higher specific surface area of O3-MWNTs was proposed as the adsorption mechanism. O3-MWNTs filters possess good potential applications for wastewater treatment, and could be used for cleaning up environmental pollution.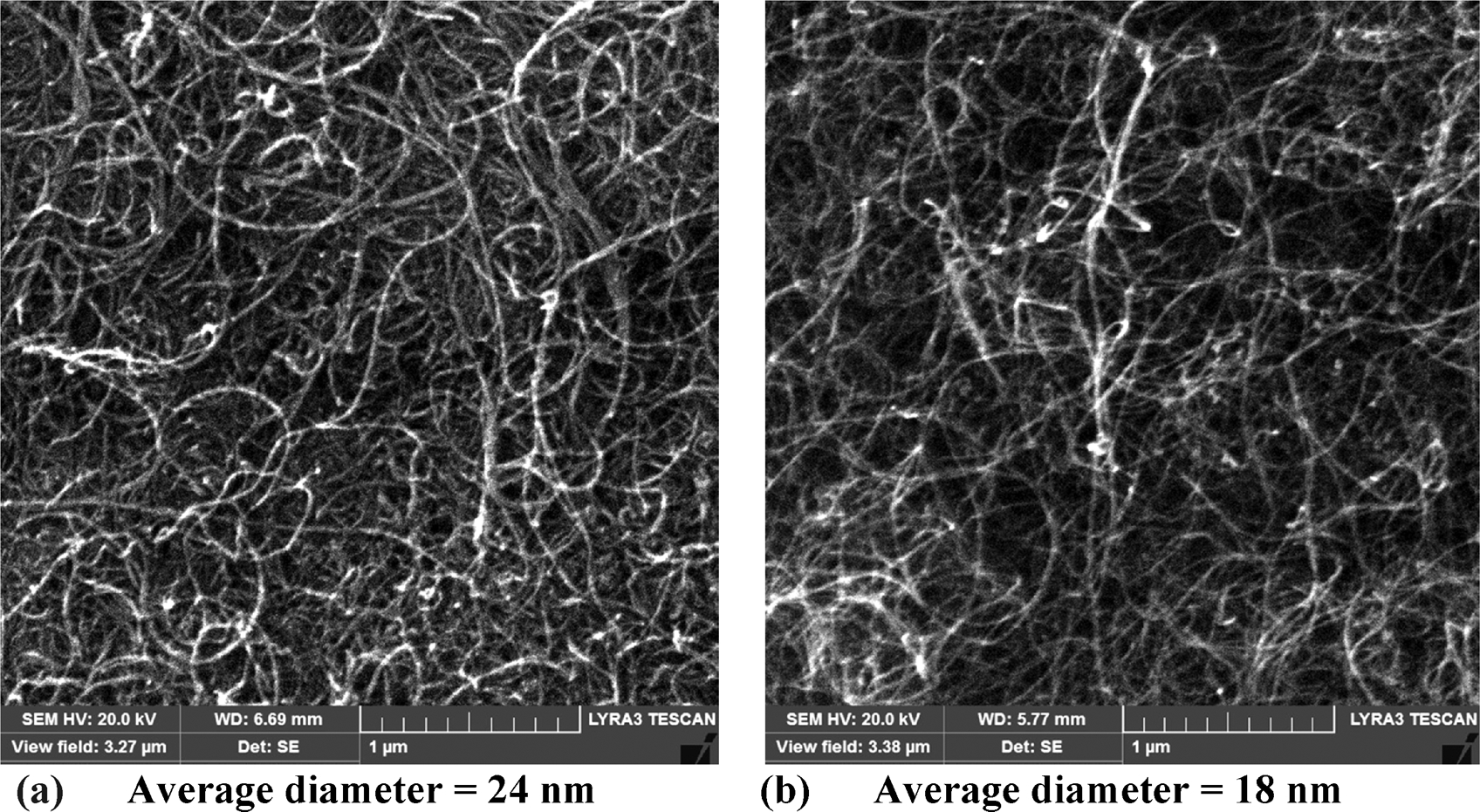 Fig. 2-1. SEM images showing the surface morphology and the diameter distribution of P-MWNTs (a), O3-MWNTs (b). A reduction in nanotube diameter is observed in ozone functionalized MWNTs.
Fig. 2-2 Raman spectra of various benzene/H2O solution concentrations from 500 to 1800 ppm (a), and the ratio between the benzene and the H2O peak intensities plotted versus the concentration of benzene in solution (b).