推 荐 人:刘静静
文献信息1:Liang Tian, Junyi Li, Feng Liang, Junkai Wang, Saisai Li, Haijun Zhang, Shaowei Zhang. Molten salt synthesis of tetragonal carbon nitride hollow tubes and their application for removal of pollutants from wastewater [J]. Applied Catalysis B: Environmental, 2018, 225, 307-313.
推荐理由:碳氮纳米空心管由于具有独特的电子带结构和机械性能良好等特点,在光催化、吸附和过滤等领域具有广阔的应用前景。本文作者采用三聚氰胺为原料,通过熔盐法原位合成具有正方晶型结构的碳氮纳米空心管。通过优化工艺参数,可制备出长度为2-20μm、宽度为50-2000nm,且具有较高比表面积的碳氮纳米空心管。这种纳米空心管可应用于亚甲基蓝的吸附和苯酚的降解领域。作者在大量既有数据上做了深入的分析,在文章撰写上值得大家学习。特别是文章逻辑清晰,结构安排合理,值得做光催化和过滤领域的同学借鉴和学习。
下载地址:https://www.sciencedirect.com/science/article/pii/S0926337317311487
Abstract: Carbon nitride has attracted extensive attention because of its promising properties and great application potential in photocatalysis, electrocatalysis, bioimaging and biomedicine. In this work, carbon nitride with a novel morphology, i.e., tetragonal carbon nitride hollow tube (TCNT), was in-situ synthesized by a molten salt method at 450°C using melamine as the starting precursor. As-prepared TCNTs were 2-20 μm long and 50-2000 nm wide and possessed higher content of impurity nitrogen and larger specific surface area than conventional bulk g-C3N4 (B-CN). A possible salt-assisted self-assembly mechanism is believed to have dominated the formation of TCNTs. As-prepared TCNTs exhibited superior photocatalytic activities and adsorption performance for methylene blue and phenol degradation to B-CN, suggesting that they could be potentially used as a promising photocatalyst and adsorbent.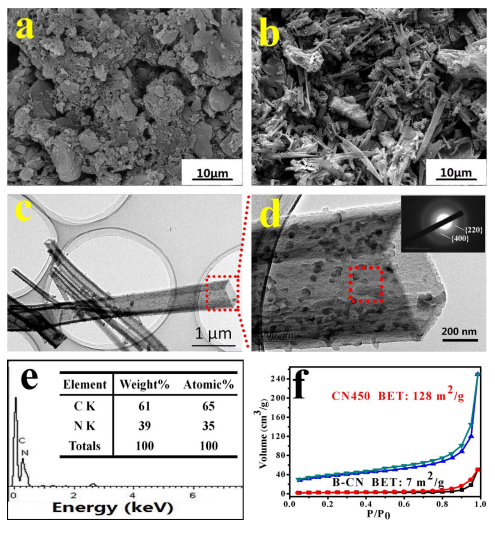 Fig. 2 SEM images of B-CN (a) and TCNTs (b), TEM image (c), high-resolution TEM image (d) and corresponding EDS (e) of TCNTs, and N2 adsorption-desorption isotherms (f) of B-CN and TCNTs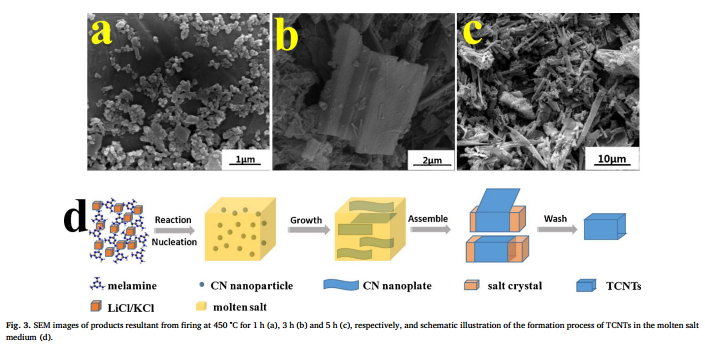 文献信息2:Junyi Li, Liang Tian, Feng Liang, Junkai Wang, Lei Han, Jun Zhang, Shengtao Ge, Longhao Dong, Haijun Zhang, Shaowei Zhang. Molten salt synthesis of hierarchical porous N-doped carbon submicrospheres for multifunctional applications: High performance supercapacitor, dye removal and CO2 capture [J]. Carbon, 2019, 141: 739-747.

推荐理由:氮掺杂碳微球由于具有比表面大和孔容积高的特点,被广泛应用于燃料电池、超级电容器和吸附等领域。本文作者采用二氨基顺丁烯二腈为原料,通过熔盐法制备了氮掺杂碳微球。通过优化工艺参数,所制备微球比表面积高达 3155m2/g,比电容为455F/g,甲基蓝吸附量为 812.2mg/g,甲基橙吸附量为805.2mg/g,CO2 吸附量为3.4mmol/g,在超级电容器和吸附领域具有良好的应用前景。本文逻辑清晰,结构合理且语言精美,可为微球制备方向的研究提供参考。
下载地址:https://www.sciencedirect.com/science/article/pii/S0008622318308777
Abstract: Hierarchical porous N-doped carbon submicrospheres (HPNCs) are synthesized at 1000°C by a facile molten salt method using diaminomaleonitrile as a precursor, iron trichloride as a catalyst, and ZnCl2-KCl to form the molten salt medium. The results indicated that the pore structure of resultant HPNCs could be tuned by changing the amount of iron catalyst, and those prepared with adding 7.1 wt% FeCl3·6H2O showed the highest specific surface area (3155 m2/g) and largest hierarchical pore volume (2.2 cm3/g) with micropore and mesopore surface areas of 808 m2/g and 2347 m2/g, respectively, in addition to their high mesopore ratio up to 84.4%. The resultant HPNCs showed outstanding specific capacitance up to 455 F/g in 6M KOH electrolyte solution at a current density of 0.5 A/g, a considerably high energy density of 93.6 Wh/kg and high capacitance retention of 95% after 5000 cycles. Moreover, they exhibited high adsorption capacities of 812.2 mg/g and 805.2 mg/g, for methylene blue and methyl orange adsorption, respectively, and high CO2 adsorption capacity of 3.4 mmol/g at 25°C and at an equilibrium pressure of 1 bar.