推 荐 人:刘相枫
文献信息1:Zhang J, Yang X, Yu S, et al. Roughening of hollow glass microspheres by NaF for Ni electroless plating, Surface and Coatings Technology. 2019, 359: 62-72.
推荐理由:化学镀以其简单易行的优点,成为现今对空心玻璃微珠进行表面金属化最常用的方法之一,但空心玻璃微珠光滑的表面会导致镀膜不均匀,甚至镀膜失败。因此,如何在镀膜前对空心玻璃微珠表面进行粗化处理就成为了保证涂层均匀性及涂层与基体间粘附强度的关键。然而,现在广泛应用的氢氟酸(HF)与中空玻璃微球(HGMs)之间的剧烈反应通常会导致HGMs薄壳的断裂和破坏,致使产品性能较差。本文提出了一种新的采用氟化钠(NaF)粗化和NaOH洗涤替代传统HF粗化的新方法。该方法用NaF和HCl的混合物缓慢腐蚀HGMs,HGMs表面无明显气孔或裂纹,用NaOH清洗HGMs表面去除与SiO2反应生成的Na2SiF6副产物,还阻止了对HGMs的进一步破坏。该方法为化学镀之前的粗化处理提供了新思路,值得大家借鉴。
Abstract: Roughening of non-conductive substrate ceramic materials with hydrofluoric acid (HF) is usually an essential step to enhance adhesion of the coating by electroless chemical plating. However, the violent reaction between HF and the hollow glass microspheres (HGMs) usually causes breakage and damage of the thin shells of HGMs. This paper proposes a modified roughening strategy for Ni electroless plating, i.e., eroding HGMs slowly with a mixture of sodium fluoride (NaF) and hydrochloric acid (HCl). The Na2SiF6 by-products from the reaction of NaF with SiO2 were erased by the following NaOH washing to expose the surface of HGMs without any obvious pores or breakage. Such a modified roughening and followed alkali washing strategy can thus not only reduce the surface corrosion, but also hinder the further damage of HGMs by covering Na2SiF6 sediments. The successive plating of uniform Ni nanoparticles on HGMs was conducted, and the related mechanism was discussed in detail.
下载地址:https://doi.org/10.1016/j.surfcoat.2018.12.031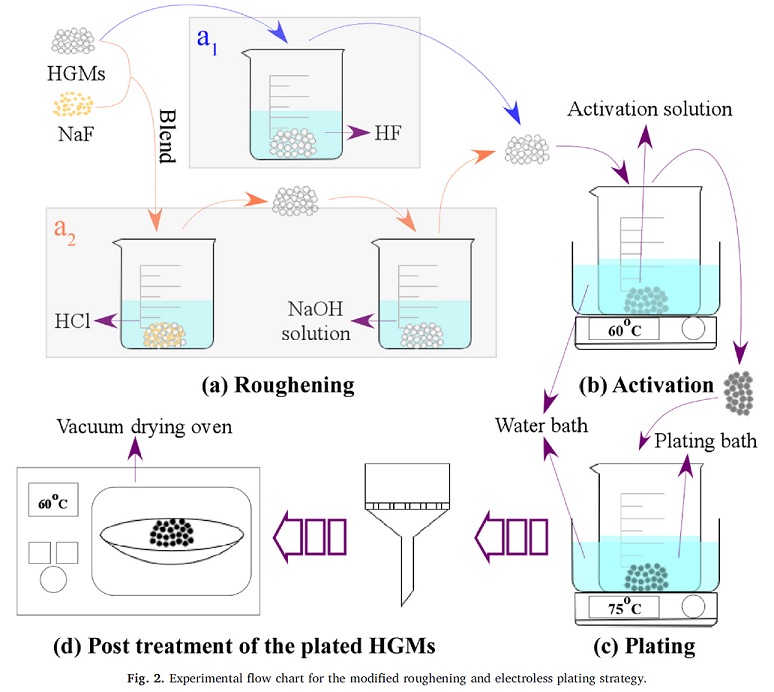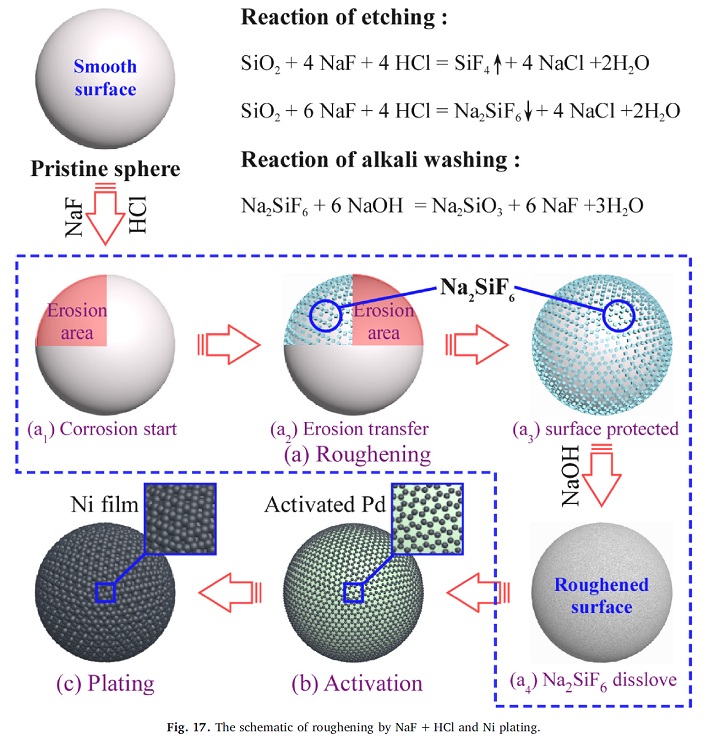 文献信息2: Hossain K M Z, Patel U, Kennedy A R, et al. Porous calcium phosphate glass microspheres for orthobiologic applications, Acta Biomaterialia. 2018, 72: 396-406.
推荐理由:磷酸盐玻璃以其成分控制简单、可完全降解和可控吸收的特性被广泛应用于骨再生等诸多领域。然而,现在广泛应用的溶胶-凝胶法、凝胶注模法、3D打印等方法制备步骤繁多,成本高昂,且有机物的分解还将产生残留污染物。与普通不规则颗粒相比,以磷酸盐为原料制备的多孔空心微珠流动性好、表面积大、利于封装更多医用成分并根据需要对其释放,因而具有更大的性能优势。本文作者提出一种制备简单、成本效益高的一步法制备多孔磷酸钙基玻璃微球,该微球通过火焰球化过程对表面孔隙进行控制,并具有完全互连的孔隙度,只需简单地改变工艺参数,就能生产出只有表面气孔的微球。可调孔隙率能够控制它们的表面积、降解曲线以及离子释放速率。本文还表明,干细胞不仅附着和增殖,而且更重要的是迁移到多孔微球的核心内,突出了干细胞在骨组织工程和再生医学中的应用。整个制备过程简单易行,成本低廉,适用于大规模生产。本文写作角度新颖,具有较高的创新性,对于采用火焰球化法制备玻璃微球及应用提供了新思路。
Abstract: Orthobiologics is a rapidly advancing field utilising cell-based therapies and biomaterials to enable the body to repair and regenerate musculoskeletal tissues. This paper reports on a cost-effective flame spheroidisation process for production of novel porous glass microspheres from calcium phosphate-based glasses to encapsulate and deliver stem cells. Careful selection of the glass and pore-forming agent, along with a manufacturing method with the required processing window enabled the production of porous glass microspheres via a single-stage manufacturing process. The morphological and physical characterisation revealed porous microspheres with tailored surface and interconnected porosity (up to 76 ± 5%) with average pore size of 55 ± 8 µm and surface areas ranging from 0.34 to 0.9 m2 g−1. Furthermore, simple alteration of the processing parameters produced microspheres with alternate unique morphologies, such as with solid cores and surface porosity only. The tuneable porosity enabled control over their surface area, degradation profiles and hence ion release rates. Furthermore, cytocompatibility of the microspheres was assessed using human mesenchymal stem cells via direct cell culture experiments and analysis confirmed that they had migrated to within the centre of the microspheres. The novel microspheres developed have huge potential for tissue engineering and regenerative medicine applications.
下载地址:https://doi.org/10.1016/j.actbio.2018.03.040