推 荐 人:李亚杰
文献信息1:Yanagishita T, Imaizumi M, Kondo T, et al. Preparation of nanoporous alumina hollow spheres with a highly ordered hole arrangement [J]. RSC Advances, 2018, 8: 2041.
推荐理由:本文利用两步阳极氧化法制备纳米多孔Al2O3微球,此方法制备出的Al2O3微球球形度高,并且具有有序空穴排列的纳米孔。此外,制备出的微球可以通过电化学的方法处理得到Au/Al2O3复合材料的空心球,用于表面增强拉曼散射测量。本文为我们研究多孔微球的制备与应用提供了新思路。
Abstract: Nanoporous alumina spheres with an ordered hole arrangement were prepared through a two-step anodization of small Al particles. The hole periodicity in the ordered anodic porous alumina could be controlled by adjusting the anodizing conditions. Nanoporous hollow spheres were also obtained by removal of residual Al in an etchant. Additionally, nanoporous spheres loaded with Au nanoparticles on their surfaces were obtained through electrochemical or chemical deposition of Au nanoparticles. The obtained Au/alumina composite hollow spheres were used as a substrate for surface-enhanced Raman scattering measurements.
下载地址:http://doi.org/10.1039/C7RA12340J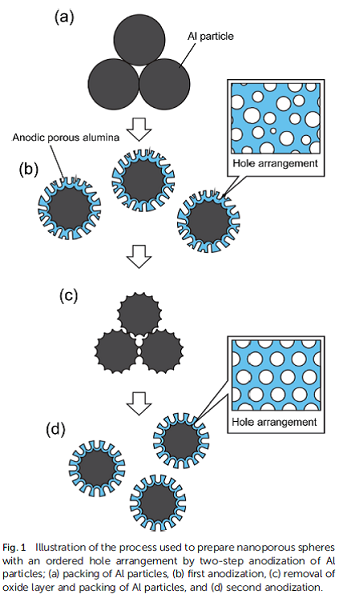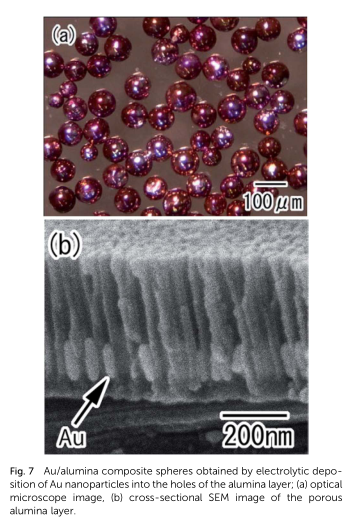 文献信息2:Qian L, Zhang H. Controlled freezing and freeze drying: a versatile route for porous and micro-/nano-structured materials [J]. Journal of Chemical Technology and Biotechnology, 2011, 86(2): 172-184.
推荐理由:本文是一篇综述性文章,文章着重讲述了冷冻及冷冻干燥技术制备多孔及微纳米结构材料的相关研究。通过介绍冷冻机制与冷冻干燥理论,论述了不同的冷冻溶剂浓度、冷冻温度及方向对孔结构、微细线、纳米线和微纳米颗粒形貌的影响规律。文章也指出,这种独具优势且普适性强的工艺可用于新结构、无缺陷、大尺寸新材料的制备,且在催化、组织工程、储能、燃料电池等领域具有潜在的应用前景,为我们采用冷冻干燥工艺合成新材料提供了重要的指导。
Abstract:Freeze drying is a process whereby solutions are frozen in a cold bath and then the frozen solvents are removed via sublimation under vacuum, leading to formation of porous structures. Pore size, pore volume and pore morphology are dependent on variables such as freeze temperature, solution concentration, nature of solvent and solute, and the control of the freeze direction. Aqueous solutions, organic solutions, colloidal suspensions, and supercritical CO2 solutions have been investigated to produce a wide range of porous and particulate structures. Emulsions have recently been employed in the freeze drying process, which can exert a systematic control on pore morphology and pore volume and can also lead to the preparation of organic micro-and nano-particles. Spray freezing and directional freezing have been developed to form porous particles and aligned porous materials. This review describes the principles, latest progress and applications of materials prepared by controlled freezing and freeze drying. First of all the basics of freeze drying and the theory of freezing are discussed. Then the materials fabricated by controlled freezing and freeze drying are reviewed based on their morphologies: porous structures, microwires and nanowires, and microparticles and nanoparticles.
下载地址:https://doi.org/10.1002/jctb.2495