推荐人:干科

文献信息1:Clara Minas, Davide Carnelli, Elena Tervoort, et al. 3D Printing of Emulsions and Foams into Hierarchical Porous Ceramics, Adv Mater, 2016, 28(45): 9993-9999.
推荐理由:增材制造是近年来的热点研究领域,随着3D打印技术的不断成熟,塑料、金属、陶瓷等材料都已可以实现增材制造,3D打印技术也逐渐朝着成型复杂结构材料的方向发展。瑞士联邦理工大学利用PVA制备的微乳液泡沫浆料,结合3D打印技术,制备了孔径尺寸可调的氧化铝多孔陶瓷,与传统方法进行对比陶瓷样品具有更优异的力学性能。
Abstract: Bulk hierarchical porous ceramics with unprecedented strength-to-weight ratio and tunable pore sizes across three different length scales are printed by direct ink writing. Such an extrusion-based process relies on the formulation of inks in the form of particle-stabilized emulsions and foams that are sufficiently stable to resist coalescence during printing.
下载地址:https://onlinelibrary.wiley.com/doi/10.1002/adma.201603390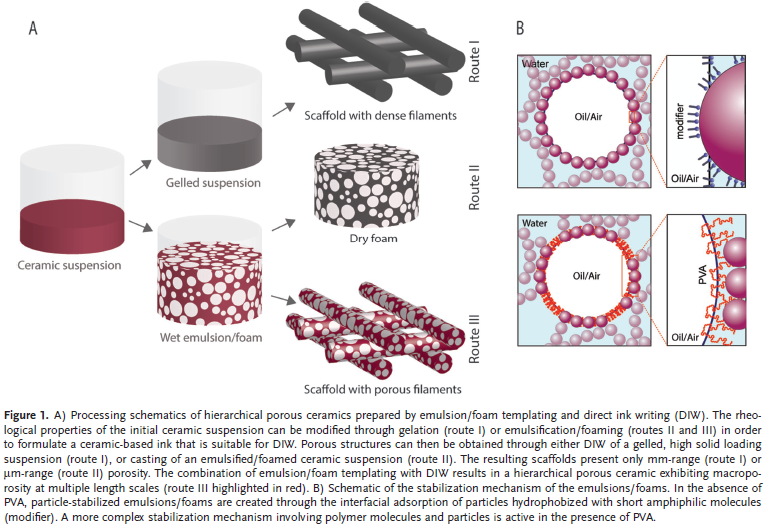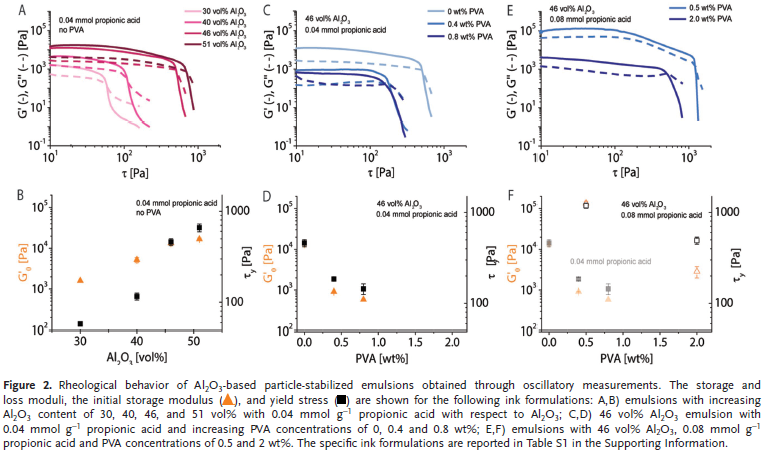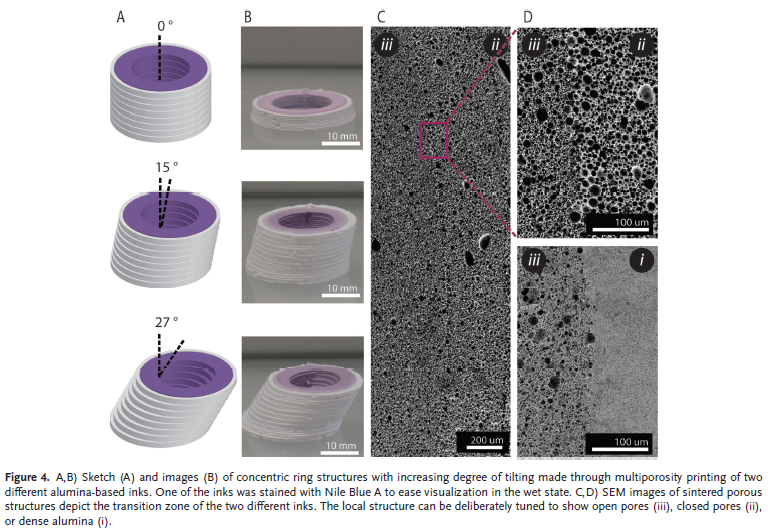 文献信息2:Antonio Cid, Óscar A. Moldes, Mário S. Diniz, et al. Redispersion and Self-Assembly of C60 Fullerene in Water and Toluene, ACS Omega, 2017, 2(5): 2368-2373.
推荐理由:自石墨烯发明以来,二维材料成为研究焦点,但富勒烯、碳纳米管等零维、一维材料也仍然有很大的研究空间和应用前景。本文将C60分别在水与甲苯中分散并观察其自组装行为,作为溶剂再分散能力对最终产品影响的依据。C60在不同溶剂中的分散行为有很大不同,在水中C60表现为无定型结构,纳米级团聚尺寸在20~40nm,微米级团聚尺寸在0.4~4.8μm;而在甲苯中会自组装形成长度为1~6μm,直径为10~50nm的类球形结构。该发现给纳米材料的应用和研究提供了基础,并且可以为其他粉体材料在溶剂中的分散行为提供研究依据。
Abstract: This work aims at assessing the influence of two different solvents, bidistilled water and toluene, on dispersions of carbon-based engineered nanomaterials, namely, fullerenes, and their self-assembly behavior. The obtained self-assembled carbon-based materials were characterized using UV−vis spectrophotometry and transmission electron microscopy techniques. The results obtained were unexpected when toluene was used for dispersing fullerene C60, with the formation of two different types of self-assembled structures: fullerene C60 nanowhiskers (FNWs) and a type of quasispherical nanostructure. The FNWs ranged between 1 and 6 μm in length, whereas the quasispherical fullerene C60 nanoaggregates ranged between 10 and 50 nm in diameter. Aggregates obtained in toluene showed a well-formed crystal structure. When using water, the obtained aggregates were amorphous and showed a no well-defined shape. Their sizes ranged between 20 and 40 nm for nanosized structures and between 0.4 and 4.8 μm for micron-sized self-aggregates.
下载地址:https://pubs.acs.org/doi/10.1021/acsomega.7b00049