推 荐 人:张笑妍
文献信息1:Rewatkar P M, Taghvaee T, Saeed A M, et al. Sturdy, monolithic SiC and Si3N4 aerogels from compressed polymer-cross-linked silica xerogel powders [J]. Chemistry of Materials, 2018, 30: 1635-1647.
推荐理由:除常见的SiO2气凝胶外,有机/无机网络结构及聚合物交联氧化物复合气凝胶也广为周知。本文利用三维组装的聚合物包覆的SiO2纳米颗粒,对其进行碳热还原,最终得到轻质高强的SiC及Si3N4泡沫陶瓷。通过聚合物交联干凝胶粉体压块作为陶瓷前驱体,利用碳反应得到孔洞结构,完成干凝胶到气凝胶的转换,大大提高了加工效率及可推广性。
Abstract: We report the carbothermal synthesis of sturdy, highly porous (>85%) SiC and Si3N4 monolithic aerogels from compressed polyurea-cross-linked silica xerogel powders. The high porosity in those articles was created via reaction of core silica nanoparticles with their carbonized polymer coating toward the new ceramic framework and CO that escaped. Sol-gel silica powder was obtained by disrupting gelation of a silica sol with vigorous agitation. The grains of the powder were about 50 μm in size and irregular in shape and consisted of 3D assemblies of silica nanoparticles as in any typical silica gel. The individual elementary silica nanoparticles within the grains of the powder were coated conformally with a nanothin layer of carbonizable polyurea derived from the reaction of an aromatic triisocyanate (TIPM: triisocyanatophenyl methane) with the innate -OH, deliberately added -NH2 groups, and adsorbed water on the surface of silica nanoparticles. The wet-gel powder was dried at ambient temperature under vacuum. The resulting free-flowing silica/polyurea xerogel powder was vibration-settled in suitable dies and was compressed to convenient shapes (discs, cylinders, donut-like objects), which in turn were converted to same-shape SiC or Si3N4 artifacts by pyrolysis at 1500℃ under Ar or N2, respectively. The overall synthesis was time-, energy-, and materials-efficient: (a) solvent exchanges within grains of powder took seconds, (b) drying did not require high-pressure vessels and supercritical fluids, and (c) due to the xerogel compactness, the utilization of the carbonizable polymer was at almost the stoichiometric ratio. Chemical and materials characterization of all intermediates and final products included solid-state 13C and 29Si NMR, XRD, SEM, N2-sorption, and Hg intrusion porosimetry. Analysis for residual carbon was carried out with TGA. The final ceramic objects were chemically pure, sturdy, with compressive moduli at 37±7 and 59±7 MPa for SiC and Si3N4, respectively, and thermal conductivities (using the laser flash method) at 0.163±0.010 and 0.070±0.001 W m-1 K-1, respectively. The synthetic methodology of this report can be extended to other sol-gel derived oxide networks and is not limited to ceramic aerogels. A work in progress includes metallic Fe(0) aerogels.
下载地址:https://www.researchgate.net/publication/323405944_Sturdy_Monolithic_SiC_and_Si_3_N_4_Aerogels_from_Compressed_Polymer-Cross-Linked_Silica_Xerogel_Powders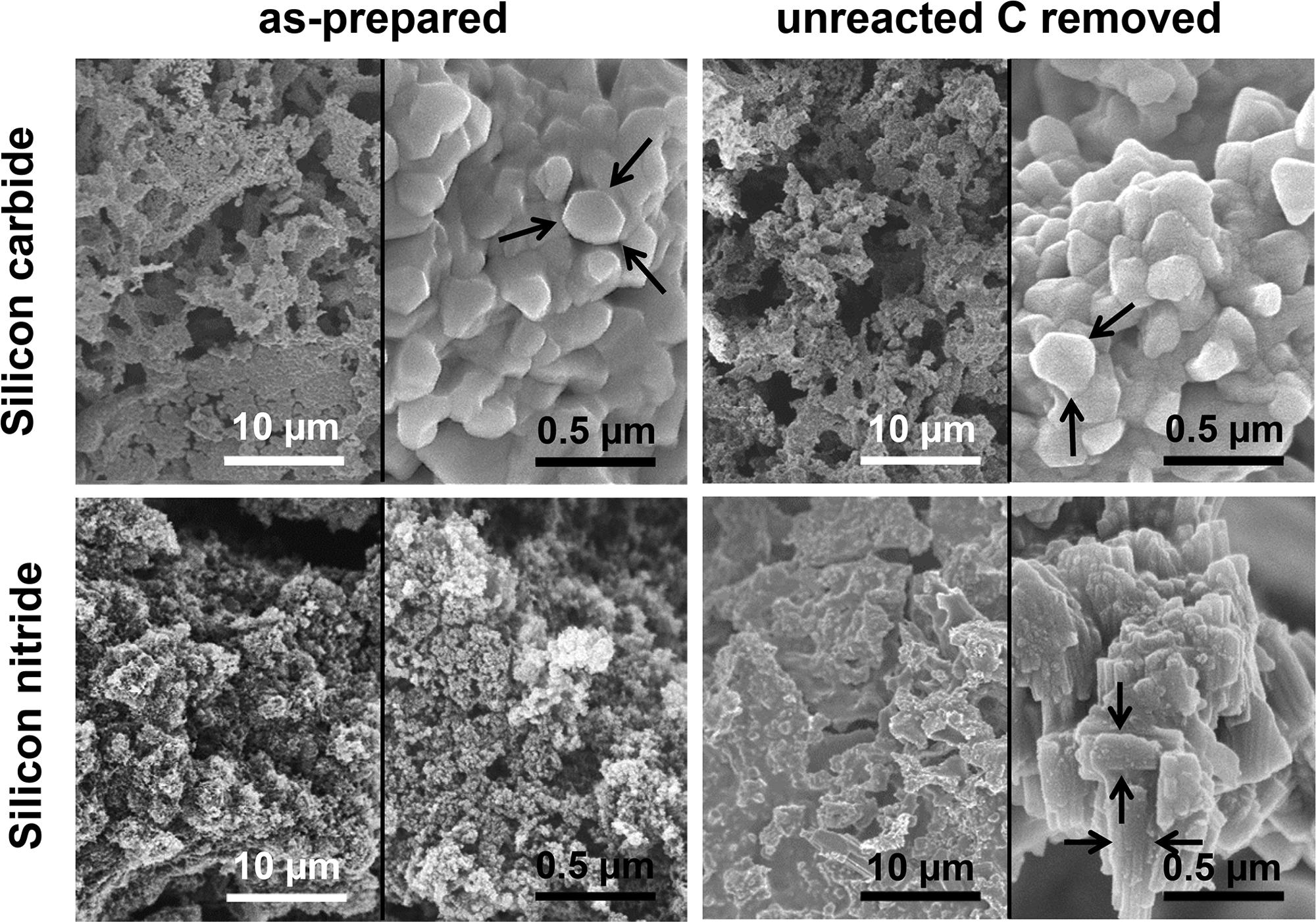 Fig 1-2. SEM from a fracture cross-section of a SiC and a Si3N4 aerogel artifact at two different magnifications, before and after removal of unreacted carbon as, indicated. Arrows show features that correspond to features in the precursors (the X-APTES@TMOS compacts − case of SiC) or to crystallite sizes calculated from the XRD data (case of Si3N4).
文献信息2:Xu C, Wang H, Song J, et al. Ultralight and resilient Al2O3 nanotube aerogels with low thermal conductivity [J]. Journal of the American Ceramic Society, 2018, 101: 1677-1683.
推荐理由:超轻材料因其低热导率、高比表面积、高机械性能及气孔率而广受关注。近年来,诸如氧化硅气凝胶、碳纳米管泡沫、微格金属、纤维素纳米纤维气凝胶等体积密度低于10 mg/cm3的新材料相继报道。本文提出了一种制备蓬松、弹性的体积密度低至0.68 mg/cm3的纳米管气凝胶的新方法,即将溶液纺丝技术与原子层沉积相结合。该材料因其优异综合性能,有望应用于航空、航天、催化剂载体、能源等领域。
Abstract:This report describes a novel method to produce fluffy and resilient nanotube aerogels by combining solution blow spinning and Atom Layer Deposition (ALD). Polyvinylpyrrolidone (PVP) sponges obtained by blow spinning are used as templates and are deposited in ALD. After removal of template, semitransparent aerogels whose density can be as low as 0.68 mg/cm3 were obtained. The product is heat-stable, with the ability to retain original shape and keep elastic after being kept at 900℃ for 2 hours. It is also heat-insulated, with a thermal conductivity of 0.022 W/K·m at room temperature. Additionally, when compressed to 60% of the original height for 100 cycles during in-situ mechanical test, the sponges recovered to around 80% of the original shape, further indicating excellent mechanically elasticity of the aerogel.
下载地址:https://onlinelibrary.wiley.com/doi/epdf/10.1111/jace.15301
Fig 2-1. Devices and procedure used in the production of Al2O3 aerogels (A); the Polyvinylpyrrolidone (PVP) sponge produced by blow‐spinning and its SEM image (B); the PVP‐Al2O3 sponge after deposited by atomic layer deposition (ALD) and its SEM image (C); the Al2O3 nanotube aerogel after template removal and its SEM images (D). Scale bars: 2 μm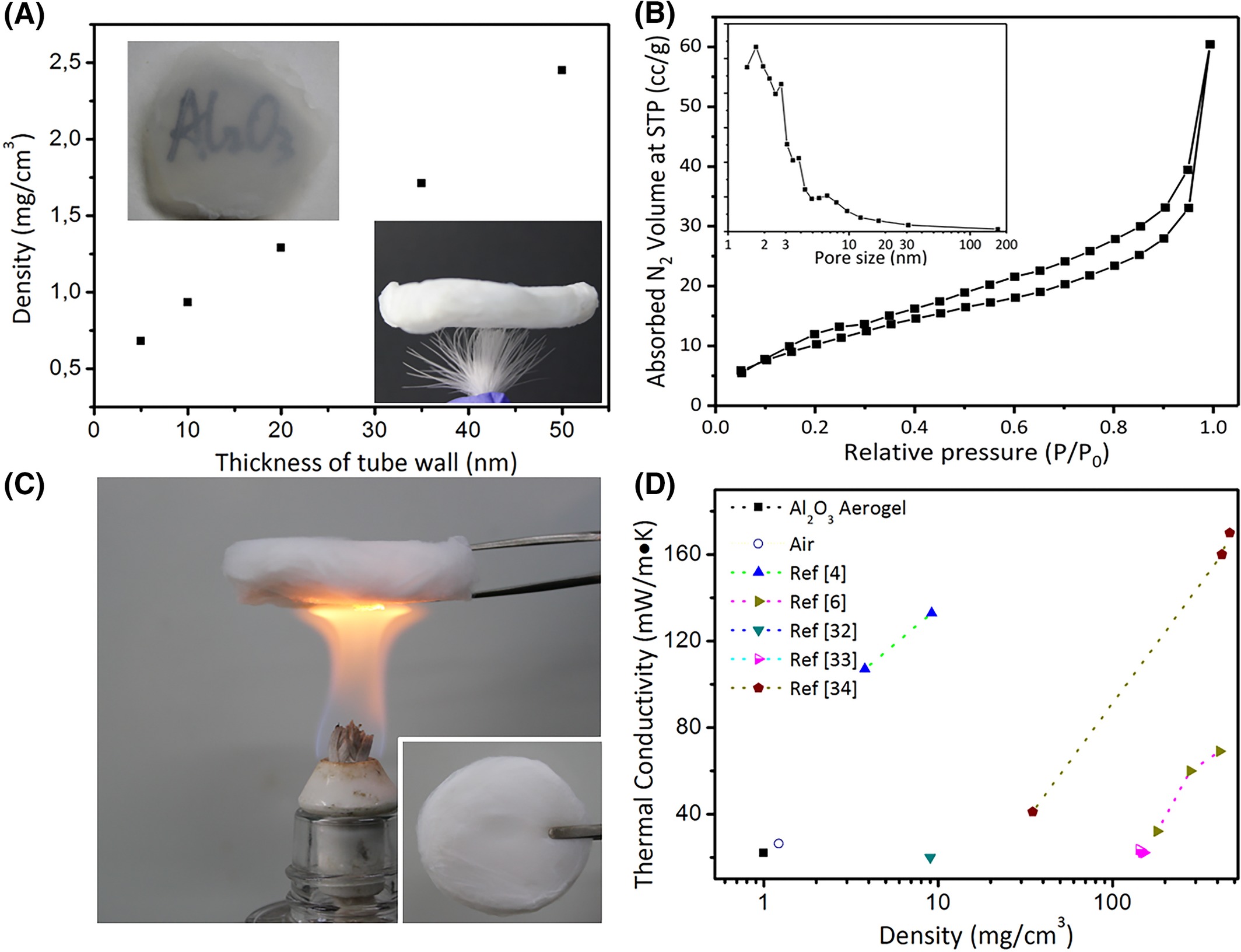 Fig 2-2. Relationship between the thickness of tube wall and densities, in which the densities are represented by average density, the semi‐transparent Al2O3 nanotube aerogel and ultralight property of the Al2O3 nanotube aerogel (A); Adsorption – desorption curve and pore size distribution of 10 nm‐deposited aerogels (B); Heat‐stable property of the aerogel (C); Thermal conductivity comparison among our aerogel and other materials (D). Ref. 4: Ultralight carbon nanotube foams; Ref. 6: Carbon aerogel monoliths; Ref. 32: SiC foams; Ref. 33: Silica aerogel with aramid fibers; Ref. 34: Plastic foams