推 荐 人:闫姝
文章信息1:Boucif F, Marouf-Khelifa K, Batonneau-Gener I, et al. Preparation, characterisation of thermally treated Algerian dolomite powders and application to azo-dye adsorption[J]. Powder Technology, 2010, 201(3):277-282.
推荐理由:作者介绍了一种通过热处理对白云石改性的方式及其对染料的吸附性能的影响。文章借助了扫描电镜、X射线衍射、比表面积等方法,对白云石在热处理过程中的结构变化进行了分析,还利用其对染料进行了吸附,对其吸附性能进行评价。这种热处理方式及性能表征方法对固体废弃物类吸附剂的制备与应用具有借鉴作用。
Abstract: Dolomite powder from Ouled Mimoun, Tlemcen (western region of Algeria) was thermally treated within the temperature range 450–1000 °C. The modifications undergone by dolomite, inherent to thermal treatment, were investigated from X-ray diffraction patterns. The results were also discussed using scanning electronic microscopy and nitrogen adsorption. The XRD data, analysed from X Pert Plus program, showed that the dolomite phase ceases at 700 °C and is relayed by the formation of in situ calcite and periclase. The crystallographic parameters of these two phases tend towards that of pure periclase and calcite at 1000 and 900 °C, respectively. SEM analysis indicated that the morphological properties were profoundly affected. SEM images of D-1000 (sample treated at 1000 °C) indicated that the original particle shape of dolomite (presence of discrete grains having sharp edges with presence of cleavages) was totally destroyed, leading to small spherical particles with a diameter of 0.1 μm. The specific surface area value of D-1000 increased more than 6 times against that of the raw dolomite. Adsorption of azo-dye Orange I from aqueous solutions onto untreated and treated dolomites was also reported. The isotherms were of L-type. The interaction was explained by electrostatic considerations between sulfonate groups of the dye (D-SO3Na), which are dissociated in the aqueous system, and positively charged adsorption sites. The affinity of orange I for the dolomitic solids follows the sequence D-900 N D-1000 N D-800 N N D-600 N raw dolomite. The maximum retention capacity shown by D-900 was explained and correlated with its crystallographic properties.
下载地址:https://www.sciencedirect.com/science/article/pii/S0032591010001956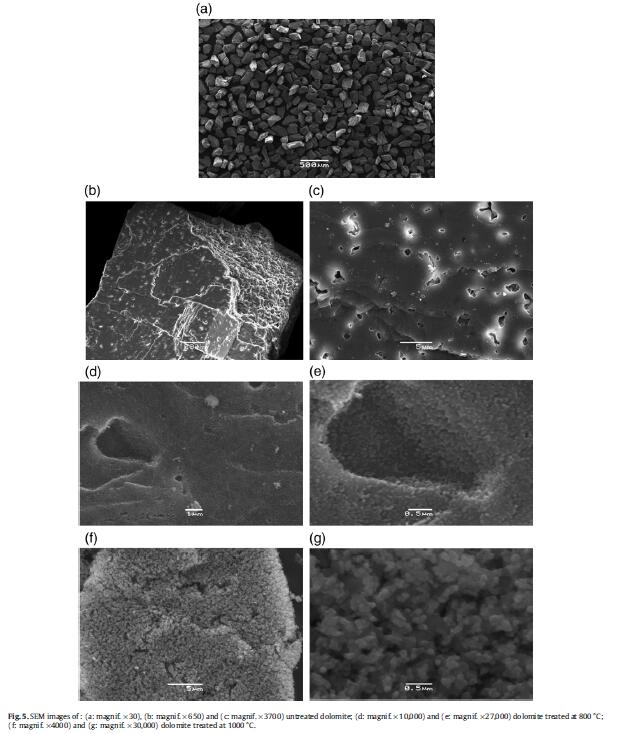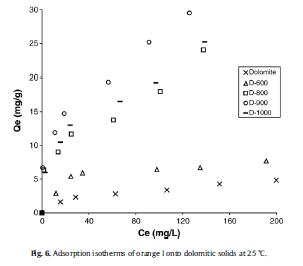 文章信息2:Ghaemi A, Torab-Mostaedi M, Ghannadi-Maragheh M. Characterizations of strontium(II) and barium(II) adsorption from aqueous solutions using dolomite powder[J], Journal of Hazardous Materials, 2011, 190(1-3): 916-921.
推荐理由:本文作者采用白云石粉体对污水中锶和钡离子进行吸附处理。作者研究了pH值、接触时间、温度和吸附物浓度对吸附过程的影响规律。研究表明,吸附符合朗格缪尔模型及伪一级动力学模型。这项研究有助于分析白云石粉体对水中重金属离子的吸附作用,具有借鉴指导作用。
Abstract: In this research, adsorption technique was applied for strontium and barium removal from aqueous solution using dolomite powder. The process has been investigated as a function of pH, contact time, temperature and adsorbate concentration. The experimental data was analyzed using equilibrium isotherm, kinetic and thermodynamic models. The isotherm data was well described by Langmuir isotherm model. The maximum adsorption capacity was found to be 1.172 and 3.958 mg/g for Sr(II) and Ba(II) from the Langmuir isotherm model at 293 K, respectively. The kinetic data was tested using first and pseudosecond order models. The results indicated that adsorption fitted well with the pseudo-second order kinetic model. The thermodynamic parameters (ΔG◦, ΔH◦, and ΔS◦) were also determined using the equilibrium constant value obtained at different temperatures. The results showed that the adsorption for both ions was feasible and exothermic.
下载地址:https://www.sciencedirect.com/science/article/pii/S0304389411004444