推荐人:张在娟
文献信息1:Yan N N, Shi X H, Li K, et al. Adsorption properties and preparation of porous TaC ceramics with regular steps [J]. Journal of Alloys and Compounds, 2018, 731: 971-977.
推荐理由:作者首次利用颗粒堆积法制备TaC多孔陶瓷,并揭示了其形成机制,具有创新意义。本文还通过研究TaC多孔陶瓷的孔结构参数、表面形态及吸附性能,证明了其在高温吸附领域具有良好的应用前景。
Abstract:Porous TaC ceramics were successfully prepared by particle packing method in order to improve the high temperature adsorption properties of ceramics. A large number of circular steps can be found clearly on the surface of the porous ceramic, and TaC ceramic particles are polycrystalline structures (fcc structure of NaCl-type). Subsequently, a porous TaC ceramics growth model was proposed to explain the formation of the steps on the ceramic surface, which revealed that the main reason for this shape was the overflow of CO and the melt of Ta2O5. Additionally, the specific surface area and median pore diameter of porous TaC ceramics were 0.098 (m2/g) and 3129 nm, respectively. And the porosity of the porous TaC ceramics was as high as 65.321%. It was impressive that the adsorption effects of porous TaC ceramics are remarkable (dropped from 4244 NTU to 0.3 NTU) and recyclable.
下载地址:http://www.sciencedirect.com/science/article/pii/S0925838817335703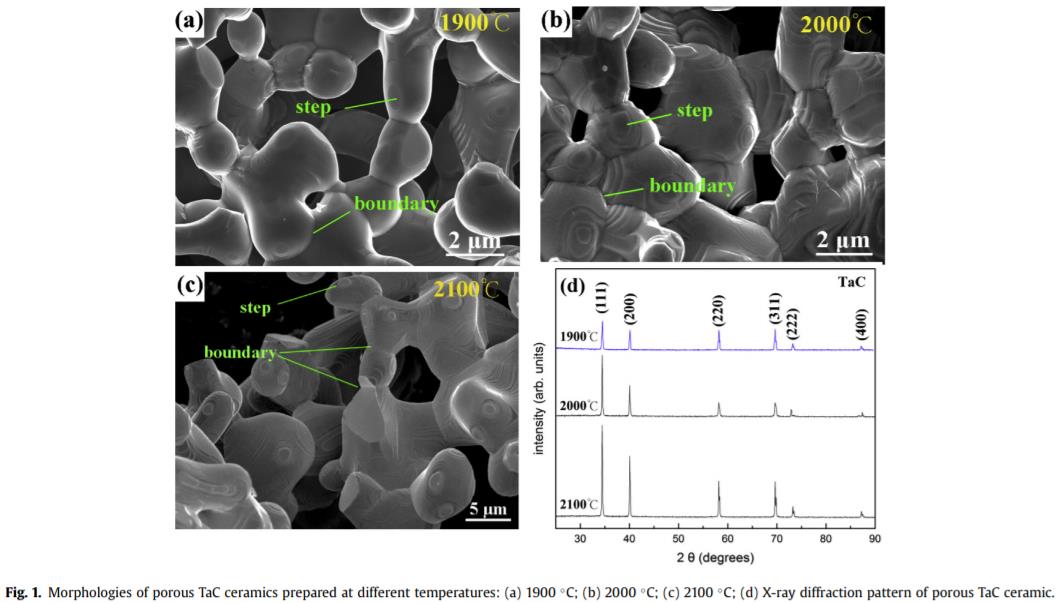 文献信息2:Yu J, Yang Z, Song Z, et al. Preparation of porous Al2O3 ceramics with in situ formed C-nanowires derived form silicone resin [J]. Materials Letters, 2018, 212: 271-274.
推荐理由:作者通过陶瓷前驱体法制备了具有C纳米线的Al2O3多孔陶瓷,指出了C纳米线的形成机理;通过研究SiC含量对多孔陶瓷性能的影响规律,指出了SiC的存在有助于C纳米线的形成,进而提高多孔陶瓷的弯曲强度。本文提出了一种低成本且有效提高多孔陶瓷力学性能的方法,具有实际应用价值。
Abstract:Porous Al2O3 ceramics with different SiC contents were successfully prepared through preceramic polymer process following by sintering at 1500 °C at N2 atmosphere, where ball-shape Al2O3 powders and preceramic polymer silicone resin were used as the matrix and the binder. According to the SEM, XRD and elemental analysis, it was found that C-nanowires were formed in the gap between grains in sintered samples, which was formed by the organic-inorganic transformation of silicone resin at N2 atmosphere. The existence of SiC was beneficial for the formation of C-nanowires. With the increase of SiC content in the samples, the porosity had no evidently change, however, the bending strength increased from 23 MPa to 50 MPa.
下载地址:https://www.sciencedirect.com/science/article/pii/S0167577X17315318