推 荐 人:吕琳
文献信息1:Chen A N, Wu J M, Xiao H, et al. Rapid and uniform in-situ solidification of alumina suspension via a non-contamination DCC-HVCI method using MgO sintering additive as coagulating agent[J]. Ceramics International, 2017, 43(13): 9926-9933.
推荐理由:本文采用DCC-HVCI法,将MgO烧结助剂作为凝固剂,甘油二乙酸酯作为pH调节剂,实现了氧化铝悬浮液的原位固化。这种方法的优点是固化时间短,均匀且无污染,且最终陶瓷的性能也比较好,是制备形状复杂的高性能陶瓷组件的有前途的胶态成型方法,具有实际意义,值得我们学习。
Abstract:A novel rapid, uniform and non-contamination in-situ solidification method for alumina suspension by DCCHVCI method using MgO sintering additive as coagulating agent was reported. MgO was used to release Mg2+ in suspensions via reaction with acetic acid generated from glycerol diacetate (GDA) at elevated temperature as well as to improve density and suppress grain growth of alumina ceramics during sintering. Influence of adding 0.7 wt% MgO with 2.0 vol% GDA in alumina suspension on coagulation process and properties of green bodies and sintered samples were investigated. It was indicated that the controlled coagulation of the suspension could be achieved after treating at 70 °C for 10 min. Homogeneous composition distribution of Mg element in EDS result indicated the uniform solidification of suspensions. Compressive strength of wet-coagulated bodies is 2.09 ± 0.25 MPa. Dense alumina ceramics with relative density of 99.2% and flexural strength of 354 ± 16 MPa sintered at 1650 °C for 4 h present homogeneous microstructure. The result indicated that the novel DCC-HVCI method via a sintering additive reaction with no contamination, short coagulation time and uniform in-situ solidification is a promising colloidal forming method for preparing high-performance ceramic components with complex shape.
下载地址:http://www.sciencedirect.com/science/article/pii/S0272884217308003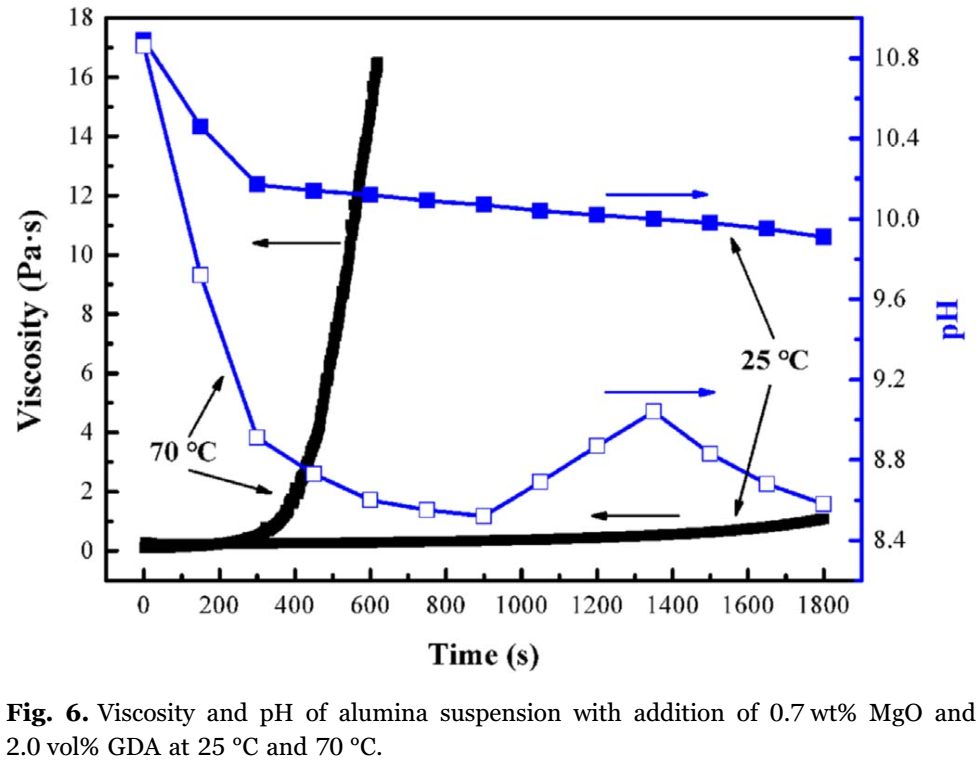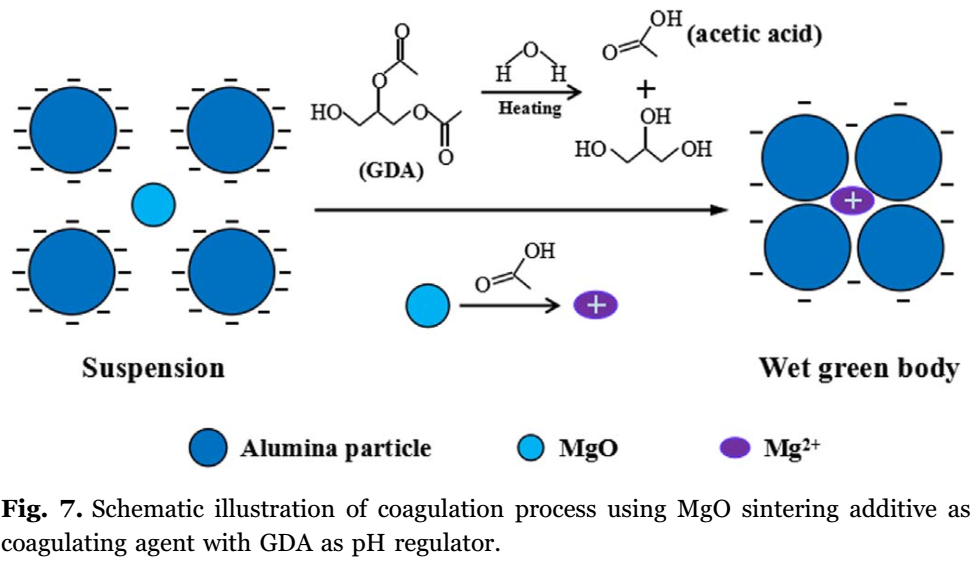 文献信息2:Guo H, Guo J, Baker A, et al. Cold sintering process for ZrO2‐based ceramics: significantly enhanced densification evolution in yttria‐doped ZrO2[J]. Journal of the American Ceramic Society, 2017, 100(2): 491-495.

推荐理由:本文首次证明了冷烧结工艺(CSP)在大大降低烧结温度下实现致密的氧化锆基陶瓷制备的可行性。与其他最新的烧结方法相比,该方法使陶瓷的致密化过程显著增强,实现单斜晶相向四方相转变,将工艺—结构—性能的关系进行优化。CSP对于建立一种基本的方法来实现低温处理氧化锆基陶瓷和复合材料是非常重要的,具有广泛的实际应用价值。
Abstract:We recently developed a novel technique of cold sintering process (CSP) to obtain dense ceramics at extraordinarily low temperatures. In this communication, we demonstrate the feasibility of applying CSP to zirconia-based ceramics. As exemplified by 3Y-TZP ceramics, a significantly enhanced densification evolution is observed. Water is simply utilized as a sintering aid to assist the ceramic densification under an applied external pressure. The low-temperature advantage of CSP outstands in contrast to the densification curves compiled from other sintering techniques. A gradual monoclinic-to-tetragonal phase transformation is revealed in correspondence to the densification development, as well as contributes to the mechanical hardness evolution. A Vickers Hardness reaches ~10.5 GPa after annealing the cold-sintered ceramics at 1100°C, which is comparable to those values reported in the previous studies at higher sintering temperatures. Such a sintering methodology is of significant importance as it provides a roadmap for cost-effective processing of zirconia-based ceramics and composites that enable broad practical applications.
下载地址:http://onlinelibrary.wiley.com/doi/10.1111/jace.14593/full