推 荐 人:干科
文献信息1:X. Zhang, M. Servos, J. Liu, et al. Ultrahigh nanoparticle stability against salt, pH, and solvent with retained surface accessibility via depletion stabilization, J. Am. Chem. Soc., 2012, 134: 9910-9913.
推荐理由:纳米材料的制备和应用一直以来都备受关注。然而相对于微米级粉体,纳米粉体具有更大的比表面积和表面能使得纳米材料的制备更加困难,尤其是在使用纳米粉体进行胶体分散的过程中。本文利用竭尽稳定机制,使用PEG制备高分散的,包括纳米金颗粒、氧化石墨烯、碳量子点、硅粉等多种纳米悬浮液,并对胶体耐酸碱、重金属离子的影响和对DNA、药物的吸附作用做了详尽的研究。本文对陶瓷悬浮体的制备,尤其是纳米陶瓷粉体的分散及应用有较大的借鉴意义,值得阅读。
Abstract: For many applications, it is desirable to stabilize colloids over a wide range of buffer conditions while still retaining surface accessibility for adsorption and reaction. Commonly used charge or steric stabilization cannot achieve this goal since the former is sensitive to salt and the latter blocks the particle surface. We use depletion stabilization in the presence of high molecular weight polyethylene glycol (PEG) to stabilize a diverse range of nanomaterials, including gold nanoparticles (from 10 to 100 nm), graphene oxide, quantum dots, silica nanoparticles, and liposomes in the presence of Mg2+ (>1.6 M), heavy metal ions, extreme pH (pH 1−13), organic solvents, and adsorbed nucleosides and drugs. At the same time, the particle surface remains accessible for adsorption of both small molecules and macromolecules. Based on this study, high loading of thiolated DNA was achieved in one step with just 2% PEG 20 000 in 2 h.
下载地址:http://pubs.acs.org/doi/abs/10.1021/ja303787e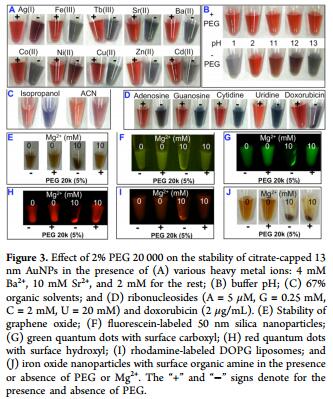 文献信息2:J. Guo, A. L. Baker, H. Z. Guo, et al. Printing in Three Dimensions with Graphene, Advan. Mater., 2015, 27: 1688-1693.
推荐理由:推荐一篇帝国理工学院先进结构陶瓷中心的一篇关于3D打印石墨烯的文章。随着科技日益进步,3D打印技术日趋完善,可打印的材料越来越多。石墨烯作为高热点研究材料,使用3D打印技术制备宏观复杂形状的石墨烯材料逐渐被关注。本文使用氧化石墨烯,通过表面改性制备悬浮液,利用挤出成型制备了宏观结构稳定的石墨烯材料。另外,文章的Supporting Information中有大量测试数据,对所制备的石墨烯材料的性能进行了测试,非常值得我们学习和借鉴。
Abstract: Responsive graphene oxide sheets form non-covalent networks with optimum rheological properties for 3D printing. These networks have shear thinning behavior and sufficiently high elastic shear modulus (G') to build self-supporting 3D structures by direct write assembly. Drying and thermal reduction leads to ultra-light graphene-only structures with restored conductivity and elastomeric behavior.
下载地址:http://onlinelibrary.wiley.com/doi/10.1002/adma.201405046/full