推 荐 人:张笑妍

文章信息1:D Li, EGD Moraes, P Colombo, et al. Preparation of nasal cavity-like SiC-Si3N4 foams with hierarchical pore architecture. RSC Advances. 2015, 5[35]: 27891-27900.
推荐理由:本文通过蛋白质基体-凝胶注模成型工艺结合改进的放电等离体子烧结技术合成了具有多级孔结构的SiC-Si3N4硬质泡沫,气孔率在60-70vol%,抗压强度为15-21MPa。孔径在1-100 μm的梯度多孔结构中被生长的SiC与Si3N4纳米线分割,形成了特殊的微观形貌。该材料有望应用于工业PM空气污染过滤器中。
Abstract: Rigid SiC–Si3N4 foams with hierarchical porosity were prepared through protein-based gel-casting followed by radiant sintering in a modified spark plasma sintering (SPS) set-up. The porous bodies sintered at 1500–1700°C for only 10 minutes achieved a compressive strength of 15–21 MPa while keeping a porosity of 60–70 vol%. Gradient porous structures, with pore sizes ranging between 1 to 100 μm, were intersected by the growth of hybrid SiC and Si3N4 nanowires inside the pores resulting in a nasal cavity-like appearance. Gas permeability at room temperature (25°C) and 600°C was evaluated. Darcian permeabilities and non-Darcian permeabilities of all the prepared foams at room temperature fell within (0.354–1.55) × 10−12m2 and (1.60–6.33) × 10−8 m, respectively. Measurement of the Darcian and non-Darcian permeabilities at 600 °C were much higher, at 1.71 × 10−11 m2 and 2.68 × 10−7 m, respectively. The microstructure, stability, gas flow properties and the green synthesis route reveal the potential of these ceramic foams to be used as industrial PM filters for airborne pollutions.
下载地址:
https://www.researchgate.net/publication/273898143_Preparation_of_Nasal_Cavity-Like_SiC-Si3N4_Foams_with_a_Hierarchical_Pore_Architecture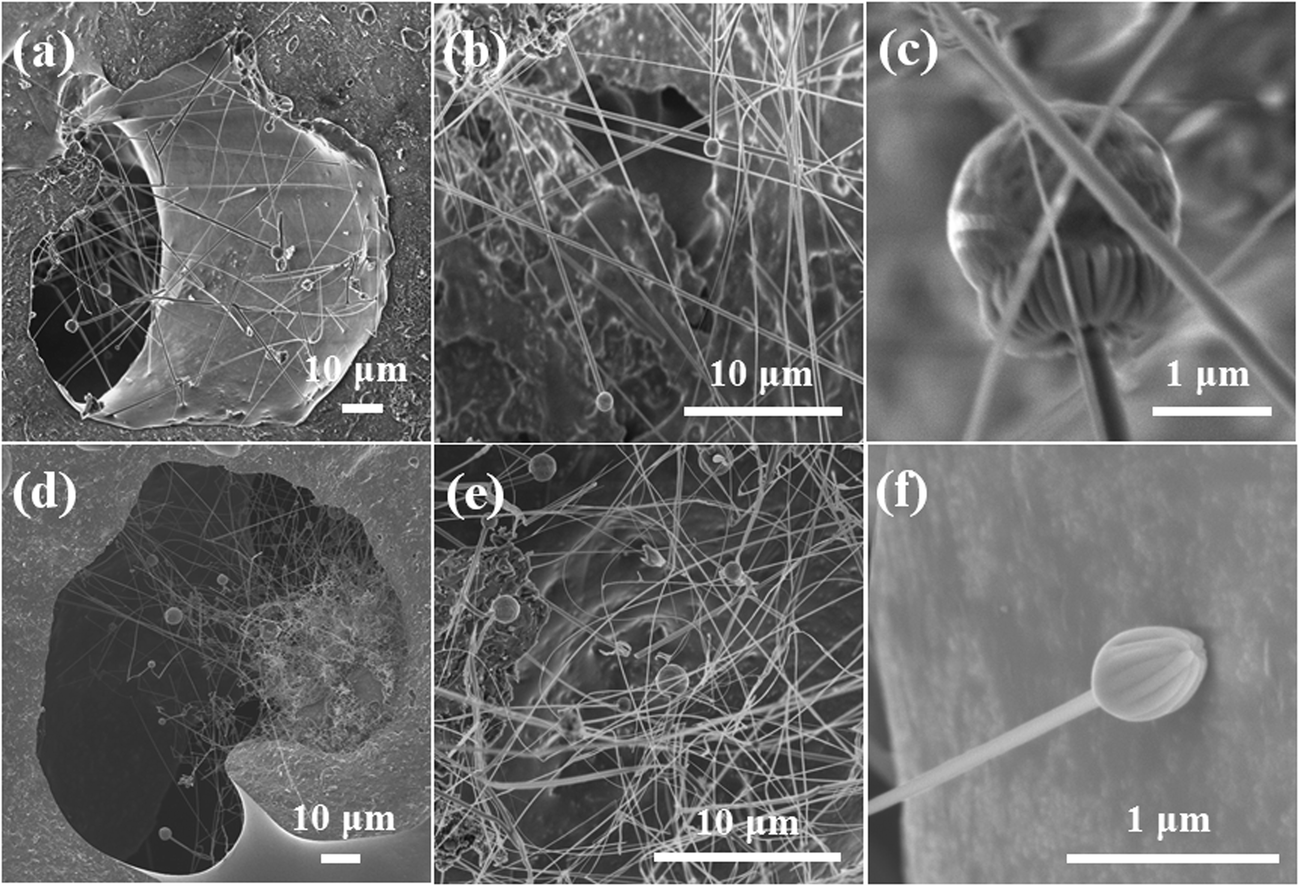 Fig. 1-1 SEM images of the SiC–Si3N4 foams sintered (a)–(c) at 1600 °C and (d)–(f) at 1700 °C showing the nasal cavity-like structure discussed in the text.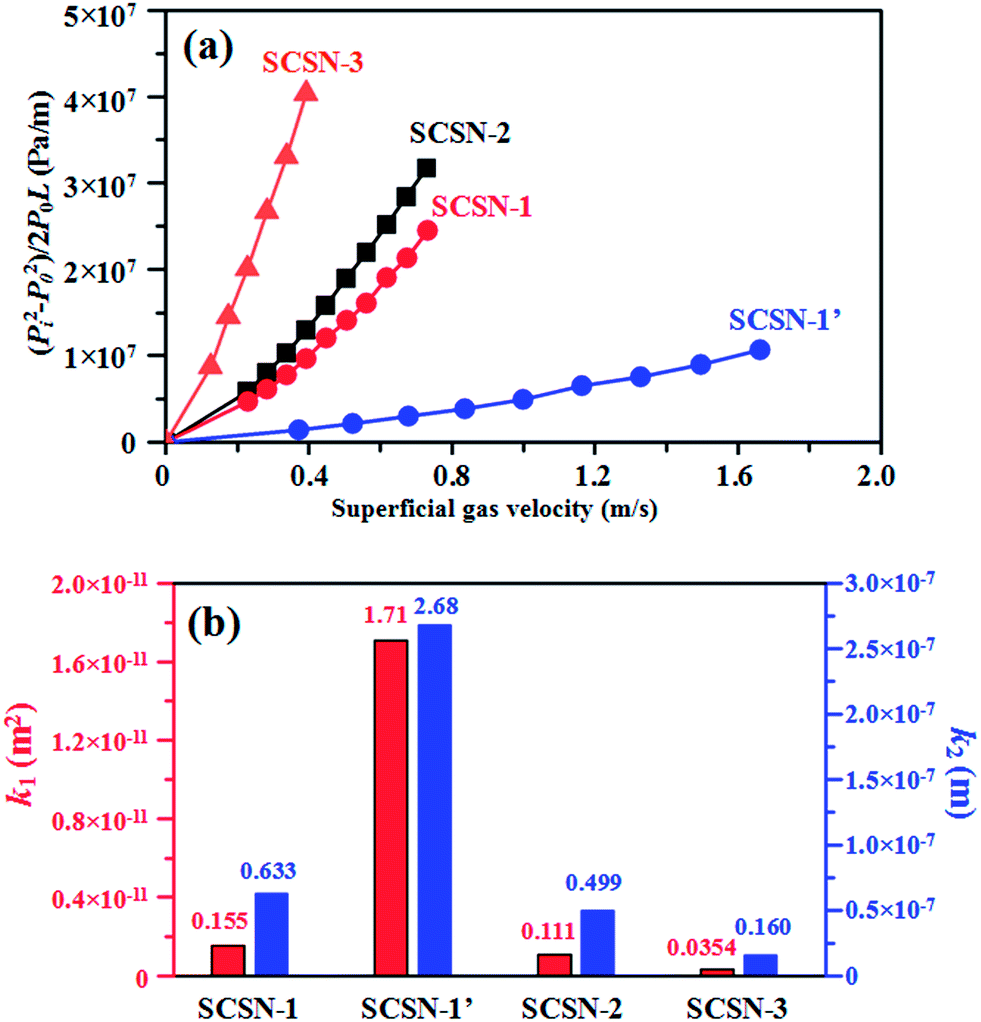 Fig. 1-2 (a) Experimental permeability data at 25°C fitted according to Forchheimer's equation as a function of the fluid velocity; (b) the calculated permeability values. The results are discussed in the text and the sample with extraordinary good data is measured at 600 °C
文章信息2:Z Dong, J Meng, H Zhu, et al. Synthesis of SiC nanowires via catalyst-free pyrolysis of silicon-containing carbon materials derived from a hybrid precursor. Ceramics International. 2017, 43[14]: 11006-11014.

推荐理由:文章报道了在无催化剂的条件下通过热解含硅质沥青碳材料合成SiC纳米线。该纳米线具有单晶结构,沿着[111]方向生长,且具有大量的堆积层错和孪生结构。SiC纳米线的生长机制可归类于气-固机制。文章的中有大量测试数据,非常值得我们学习和借鉴。
Abstract:SiC nanowires were successfully synthesized without catalyst by pyrolysis of silicon-containing pitch-derived carbon materials in a closed graphite crucible. These silicon-containing carbon materials were obtained by homogenization and co-carbonization of a hybrid precursor consisting of the toluene soluble fraction of coal tar pitch with polycarbosilane (PCS). The composition, morphology and structure of the nanowires were characterized by X-ray diffraction (XRD), scanning electron microscopy (SEM), transmission electron microscopy (TEM) and selected area electron diffraction (SAED). The influence of pyrolysis temperature on the growth of the nanowires was investigated by Fourier transform infrared spectroscopy (FTIR) and thermogravimetry coupled with mass spectroscopy (TG-MS) analysis. The results indicate that the growth of the SiC nanowires starts at around 1200 °C. As the pyrolysis temperature increases to 1300–1500 °C, a large quantity of nanowires are formed on the top surface of the pitch-derived carbon substrate. In addition, increasing the pyrolysis temperature leads to an increase in the average diameter and a change in the typical morphology produced. The synthesized SiC nanowires have single-crystalline structure and are grown along the [111] direction with numerous stacking faults and twins. The vapor-solid (VS) mechanism may be responsible for the growth process of the SiC nanowires.
下载地址:http://www.sciencedirect.com/science/article/pii/S0272884217309549/pdfft?md5=e179565a570463654e7a4ecb10d5be0c&pid=1-s2.0-S0272884217309549-main.pdf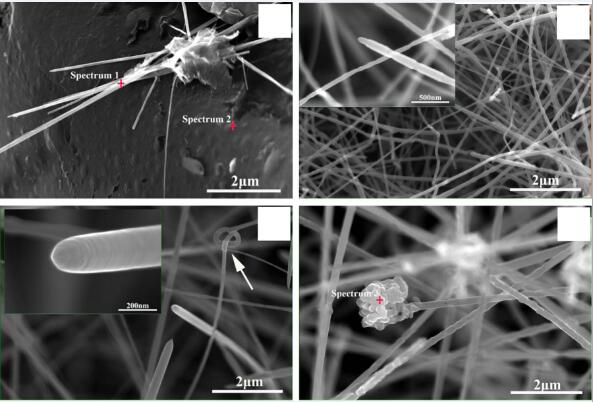 Fig. 2-1 High magnification SEM images the SiC nanowires synthesized by pyrolysis of silicon-containing pitch-derived carbon materials at various temperatures (a: 1200 °C; b: 1300 °C; c: 1400 °C; and d: 1500 °C) The insets in Fig. 4b and c show the typical morphology of the nanowires synthesized at 1300 °C and 1400 °C.

Fig. 2-2 Schematic illustration showing the nucleation and growth of SiC nanowires on the top surface of the silicon-containing pitch-derived carbon matrix via the VS mechanism during pyrolysis in a closed graphite crucible. (a) silicon-containing pitch-derived carbon matrix at the start of pyrolysis; (b) formation of SiC crystal nuclei in the carbon matrix at about 1100 °C; (c) formation of low-density SiC nanowires on the top surface of the carbon matrix at 1200 °C; (d) formation of high-density SiC nanowires on the top surface of the carbon matrix in the temperature range of 1300–1500 °C.