推 荐 人:鲁毓钜
文献信息1:Li C-C, Chang S-J, Wu C-W, et al. Poly(methacrylate)‐derived diblock dispersant for TiO2 in aqueous suspensions [J]. Journal of the American Ceramic Society, 2017, 100(11): 4961–4964.
推荐理由:作者设计了一种甲基丙烯酸和丙烯酸2-苯氧基乙基酯的嵌段共聚物PMA-b-PBEA。其中PMA段含有羧基,可伸展在溶剂中,起到静电稳定和空间位阻稳定的作用;PBEA段为非极性,可吸附在陶瓷颗粒表面,起到固定作用。作者研究了PAA-NH4和PMA-b-PBEA对TiO2陶瓷悬浮体的流变性的影响,发现PMA-b-PBEA可以减少流变曲线上的滞后回线,显示出了更优越的分散性。本文对陶瓷分散剂的选用和设计有一定启发作用。
Abstract: In this paper, we propose a newly designed dispersant, ammonium poly(methacrylate)-block-poly(2-phenoxyethyl acrylate) (PMA-b-PBEA), and our rheological and zeta potential test results verify its superior dispersion efficiency for aqueous suspensions in comparison to the commercial dispersant ammonium polyacrylate (PAA-NH4). The extremely high dispersion efficiency of PMA-b-PBEA correlates closely to its diblock structure, which simultaneously exhibits a less polar anchoring head group and a water-dissociable stabilizing moiety. The unique structure of PMA-b-PBEA accounts for its high powder adsorption effectiveness, which is demonstrated in its adsorption capability being double that of PAA-NH4.
下载地址:http://onlinelibrary.wiley.com/doi/10.1111/jace.15039/full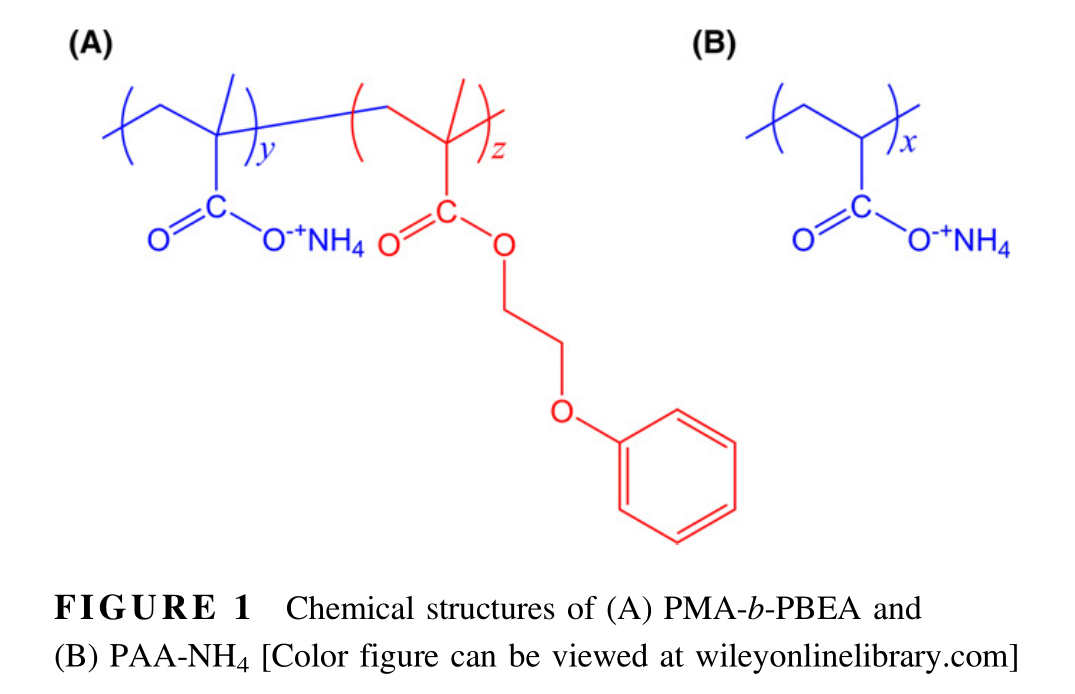 文献信息2:Deng X, Ran S, Han L, et al. Foam-gelcasting preparation of high-strength self-reinforced porous mullite ceramics [J]. Journal of the European Ceramic Society, 2017, 37(13): 4059–4066.
推荐理由:这篇文章以莫来石为主要原料,加入AlF3·3H2O,并以Isobam-104为分散剂和凝胶剂,以羧甲基纤维素钠为泡沫稳定剂,以十二烷基硫酸三乙醇胺(TLS)为发泡剂,制备了高强度的多孔莫来石陶瓷。研究结果表明,AlF3·3H2O的加入可以促进莫来石长柱状晶粒的发育,从而起到自增韧的效果。这篇文章证实了Isobam在泡沫陶瓷制备中的应用,同时介绍了AlF3·3H2O在莫来石陶瓷制备中起的作用。
Abstract: High-strength self-reinforced porous mullite ceramics were prepared via foam-gelcasting using mullite powder as a main raw material, AlF3·3H2O (0–8 wt%) as an additive, Isobam-104 as a dispersing and gelling agent, sodium carboxymethyl cellulose as a foam stabilizing agent, and triethanolamine lauryl sulfate as a foaming agent. The effects of AlF3·3H2O content on rheological and gelling behaviors of the slurries, and porosity and mechanical properties of self-reinforced porous mullite samples were examined. Addition of AlF3·3H2O promoted the in-situ formation of elongated mullite in the fired porous samples, which improved considerably their mechanical properties. Compressive strength and flexural strength of 67.0% porous mullite ceramics prepared with addition of 6 wt% AlF3·3H2O was as high as 41.3 and 13.9 MPa, respectively. Its hot modulus rupture (HMOR) increased initially with the testing temperature, and peaked (with a maximum value of 16.6 MPa) at 800 °C above which it started to decrease with the testing temperature. Nevertheless, it was still retained as high as 6.7 and 2.8 MPa at 1200 and 1400 °C, respectively.
下载地址:http://www.sciencedirect.com/science/article/pii/S0955221917303412