推 荐 人:唐欣悦
文献信息1:Chen W F, Wang C H, Sasaki K, et al. Highly active and durable nanostructured molybdenum carbide electrocatalysts for hydrogen production[J]. Energy & Environmental Science, 2013, 6(3):943-951.
推荐理由:铂是目前已知用于电解水的最好的催化剂,可有效降低电解水过程中电极表面的超电势,但由于其价格昂贵且储量有限,无法广泛应用于工业生产。而β-Mo2C因具有与铂类似的电子结构使其具有与铂类似的催化活性。作者通过原位碳化的方法得到了碳纳米管/碳化钼和炭黑/碳化钼复合材料,并将碳化钼颗粒稳定的镶嵌在了碳源表面。研究发现,相比于传统的块体Mo2C,碳纳米管/碳化钼复合材料在氢还原反应过程中具有极佳的反应活性与化学稳定性。本文为碳化钼的产业化提供可能性,具有重要意义,是篇值得学习的好文章。
Abstract: In an attempt to tailor low-cost, precious-metal-free electrocatalysts for water electrolysis in acid, molybdenum carbide (b-Mo2C) nanoparticles are prepared by in situ carburization of ammonium molybdate on carbon nanotubes and XC-72R carbon black without using any gaseous carbon source. The formation of Mo2C is investigated by thermogravimetry and in situ X-ray diffraction. X-ray absorption analysis reveals that Mo2C nanoparticles are inlaid or anchored into the carbon supports, and the electronic modification makes the surface exhibit a relatively moderate Mo–H bond strength. It is found that carbon nanotube-supported Mo2C showed superior electrocatalytic activity and stability in the hydrogen evolution reaction (HER) compared to the bulk Mo2C. An overpotential of 63 mV for driving 1 mA cm-2 of current density was measured for the nanotube-supported Mo2C catalysts; this exceeds the activity of analogous Mo2C catalysts. The enhanced electrochemical activity is facilitated by unique effects of the anchored structure coupled with the electronic modification.
下载地址:
http://xueshu.baidu.com/s?wd=paperuri%3A%2819ca28dd0895a1dac52d94d69ad15618%29&filter=sc_long_sign&tn=SE_xueshusource_2kduw22v&sc_vurl=http%3A%2F%2Fpubs.rsc.org%2Fen%2Fcontent%2Farticlepdf%2F2013%2FEE%2FC2EE23891H&ie=utf-8&sc_us=10901593216450871274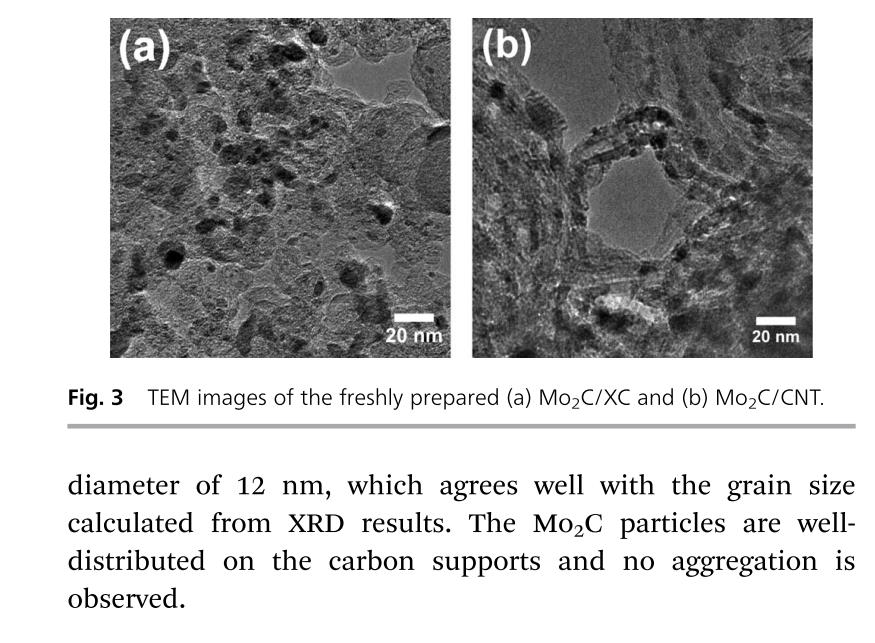 文献信息2:A. Gómez-Martín, M.P. Orihuela, J.A. Becerra, et al. Permeability and mechanical integrity of porous biomorphic SiC ceramics for application as hot-gas filters.[J]Marerials and Design, 107 (2016) 450-460.
推荐理由:本文使用五种不同前驱体制备得到多孔生物碳化硅陶瓷(气孔率为45% ~ 72%),并探索其在过滤上的应用的可行性,作者研究了前驱体的微观结构对制得陶瓷性能的影响,包括孔径分布、气孔率、透气性和机械强度。研究结果表明,可以通过选择前驱体来满足设备的要求,将其应用于热气过滤是可行的。文中使用的多种分析拟合方法都是值得学习和借鉴的。
Abstract: Biomorphic SiC is a biotemplated material fabricated by Si melt-infiltration of carbon preforms from wood pyrolysis. In this work, porous bioSiC ceramics from five different wood precursors, with porosities between 45 and 72% were studied for their feasibility in filtering applications. Gas permeability and mechanical stability were investigated as a function of the microstructure of the starting wood precursor. Air-permeation performance at room temperature was measured for a range of flow rates, and the permeability constants were assessed by fitting of Forchheimer's equation to the experimental data. Darcian permeabilities were achieved in the range 10−11 –10−12m2, while inertial terms were in the range10−7 –10−8m, showing a correlation with the average pore size and orientation of the larger channels. Regarding the mechanical stability, maximum compressive strength values were reached in the range of 3–115 MPa. These results improve our understanding of the ways in which the microstructure influences permeability and mechanical robustness, enabling the device requirements to be tailored by selecting the wood precursor. It was also shown that these materials are promising for hot-gas filtering applications.
下载地址:http://www.sciencedirect.com/science/article/pii/S0264127516308127