推 荐 人:张在娟
文章信息1:Hill C, Eastoe J. Foams: From nature to industry[J]. Advances in Colloid and Interface Science, 2017.
推荐理由:稳定性一直是泡沫研究的重点,本文分别从天然泡沫和工业泡沫的角度,论述了不同的稳定机制:天然泡沫(如海上泡沫、泡沫巢等)大多是通过蛋白质或有机碳(DOC)等实现稳定的;工业泡沫,主要通过表面活性剂稳定、蛋白质稳定和颗粒稳定。值得注意的是,利用激光散射方法和X射线断层扫描技术可观察泡沫的衰减过程,确定泡沫的不稳定性机理,测试方法直观,可供参考。
Abstract: This article discusses different natural and man-made foams, with particular emphasis on the different modes of formation and stability. Natural foams, such as those produced on the sea or by numerous creatures for nests, are generally stabilised by dissolved organic carbon (DOC) molecules or proteins. In addition to this, foam nests are stabilised by multifunctional mixtures of surfactants and proteins called ranaspumins, which act together to give the required physical and biochemical stability. With regards to industrial foams, the article focuses on how various features of foams are exploited for different industrial applications. Stability of foams will be discussed, with the main focus on how the chemical nature and structure of surfactants, proteins and particles act together to produce long-lived stable foams. Additionally, foam destabilisation is considered, from the perspective of elucidation of the mechanisms of instability determined spectroscopically or by scattering methods.
下载地址:http://www.sciencedirect.com/science/article/pii/S0001868616302998#f0005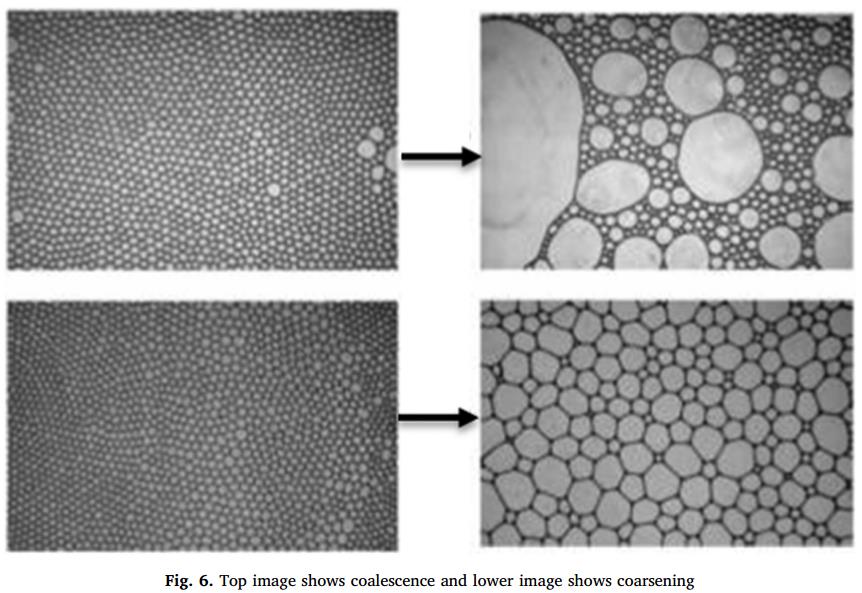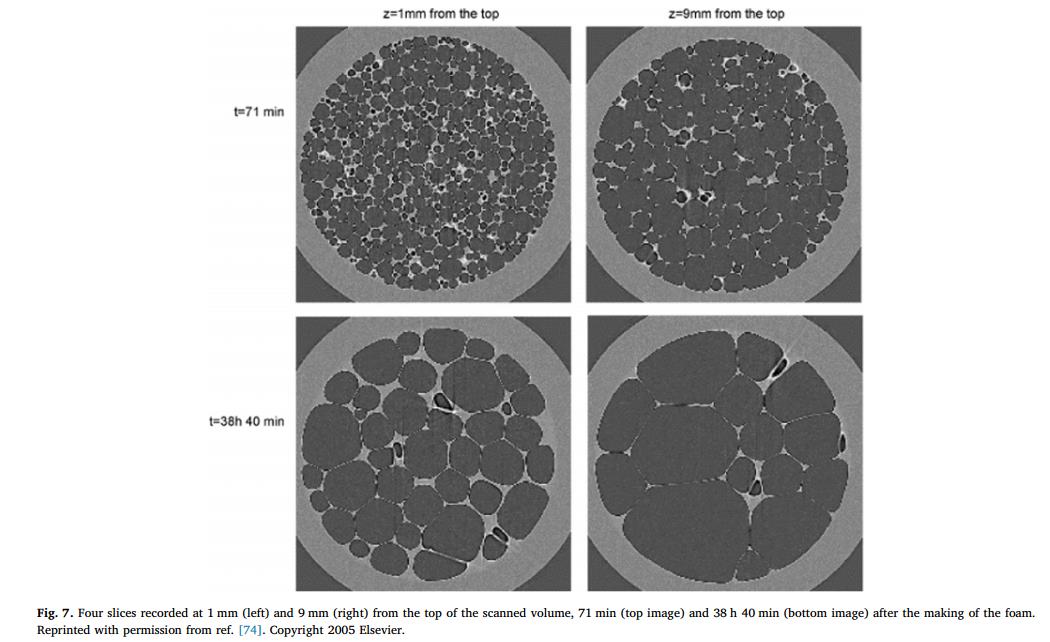 文章信息2:Furler P, Scheffe J, Marxer D, et al. Thermochemical CO2 splitting via redox cycling of ceria reticulated foam structures with dual-scale porosities[J]. Physical Chemistry Chemical Physics, 2014, 16(22): 10503-10511.
推荐理由:本文将造孔剂法和有机泡沫浸渍法相结合,制备了双尺度微孔氧化铈多孔陶瓷,所得制品包括2.5mm的大孔和10µm的微孔。本文系统研究了不同造孔剂添加量对氧化铈多孔陶瓷孔结构和催化性能的影响,为制备双级孔多孔陶瓷提供了研究思路。
Abstract: Efficient heat transfer of concentrated solar energy and rapid chemical kinetics are desired characteristics of solar thermochemical redox cycles for splitting CO2. We have fabricated reticulated porous ceramic (foam-type) structures made of ceria with dual-scale porosity in the millimeter and micrometer ranges. The larger void size range, with dmean = 2.5 mm and porosity = 0.76–0.82, enables volumetric absorption of concentrated solar radiation for efficient heat transfer to the reaction site during endothermic reduction, while the smaller void size range within the struts, with dmean = 10 μm and strut porosity = 0–0.44, increases the specific surface area for enhanced reaction kinetics during exothermic oxidation with CO2. Characterization is performed via mercury intrusion porosimetry, scanning electron microscopy, and thermogravimetric analysis (TGA). Samples are thermally reduced at 1773 K and subsequently oxidized with CO2 at temperatures in the range 873–1273 K. On average, CO production rates are ten times higher for samples with 0.44 strut porosity than for samples with non-porous struts. The oxidation rate scales with specific surface area and the apparent activation energy ranges from 90 to 135.7 kJ mol−1. Twenty consecutive redox cycles exhibited stable CO production yield per cycle. Testing of the dual-scale RPC in a solar cavity-receiver exposed to high-flux thermal radiation (3.8 kW radiative power at 3015 suns) corroborated the superior performance observed in the TGA, yielding a shorter cycle time and a mean solar-to-fuel energy conversion efficiency of 1.72%.
下载地址:http://pubs.rsc.org/-/content/articlehtml/2014/cp/c4cp01172d