推 荐 人:唐欣悦
文献信息1:Li C, Han Y, Wu L, et al. Fabrication and properties of porous anorthite ceramics with modelling pore structure [J]. Materials Letters, 2017, 190: 95-98.
推荐理由:钙长石兼具低理论密度(2.76 g/cm3)、低热导率(3.67 W/m·K)和低热胀系数(4.8×10-6/K)的优点,是耐火砖的主要组成,但其较低的纯度和较差的机械性能限制了它在其他领域的应用。以γ-Al2O3, CaCO3和SiO2为原料,采用泡沫凝胶注模法可制备高纯度、高强度的钙长石多孔陶瓷,但由于γ- Al2O3自身的结构特征使其不能制备低气孔率结构。本文以α- Al2O3为原料,仍采用泡沫凝胶注模法,最终得到气孔率为62~91%,孔径为7~350 μm,抗压强度为0.27~13.3 MPa的钙长石多孔陶瓷,解决了高纯度下气孔率无法低于69.9%的问题,为制备可广泛用于其他领域的钙长石多孔陶瓷提供了新思路。
Abstract:A single-phased anorthite porous ceramics was fabricated by foam-gelcasting technique using α-Al2O3, CaCO3 and SiO2 as starting material. Through adjusting foaming agent concentration and solid content in the slurry, tailored porosity (62–91%), pore size (7–350 μm), thermal conductivity (0.04–0.27 W/m·K) and compressive strength (0.27–13.39 MPa) were obtained. The experimental thermal conductivity was in good agreement with the universal model. The dependence of compressive strength on porosity can be described by the Gibson model.
下载地址:http://www.sciencedirect.com/science/article/pii/S0167577X1632016X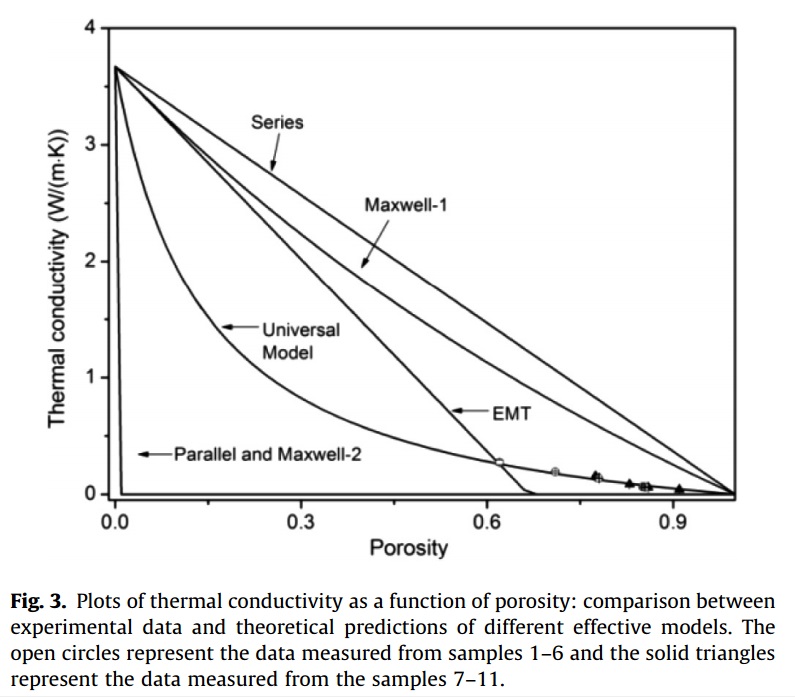 文献信息2:Wang S, Zhou M, Zeng L, et al. Investigation on the Preparation and properties of reticulate porous ceramic for organism carrier in sewage disposal [J]. Journal of Ceramic Processing Research, 2016, 17(10): 1095-1099.
推荐理由:传统污水处理生物载体如PVC、PE、PP等生物相容性差,而无机材料载体如沙子、玻璃和沸石的渗透性较差,且易堵塞。本文采用有机泡沫浸渍法制备网状多孔陶瓷,并探究了气孔率、孔尺寸和表面状态对材料吸附效果的影响。制备的网状多孔陶瓷具有良好的生物相容性,根据烧结温度不同,相组成由石英相变为莫来石相,在较高气孔率和一定尺寸下,对CODCr 和NH3-N的去除率可接近90%。本文可以加深读者对污水中微生物去除机理的认识,同时,此法具有较高的微生物去除率,可为污水处理提供有效途径。
Abstract:The purpose of this study is to prepare cheaper and higher performance reticulate porous ceramic (RPC) which is quite suitable for using in organic carrier. The RPC was made by clay through the polymeric foam replication process.The X-ray powder diffraction (XRD) phase analysis indicated that the RPC was mainly comprised mullite when sintered at 1350 degrees C. The surface status of different component RPCs were also observed under scanning electron microscopy (SEM). The bio-film properties of RPC with different component and pore size were evaluated bythe removal rates of CODCr and NH3-N. The results illustrated that the RPC had high effectiveness on the adsorptionof micro-organism, the removal rates of CODCr and NH3-N were all reached to similar to 90%. The bio-film effect was associated to porosity, pore size and surface status of the RPC. Moreover, the porosity and pore size played more importantly role than the surface status in the process of bio-film for the RPC carriers. In fact, the RPC carriers with more porosity and suitable pore size achieve better sewage treatment effect.
下载地址:
http://apps.webofknowledge.com/full_record.do?product=UA&search_mode=GeneralSearch&qid=9&SID=T1c6qts3cqyIshTDEtF&page=1&doc=1